The New York Times on "Dahesh At Christie's"
[via nytimes]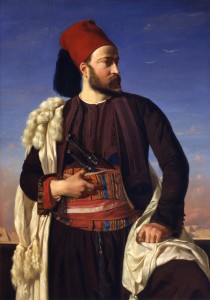 The Dahesh Museum of Art has been without a home since it vacated its premises at Madison Avenue and 57th Street in 2007. Since then it has been teaming with institutions like Syracuse University to keep its name and collection in the public eye.
Its latest partnership is sure to raise a few eyebrows, however. This week the institution said it had organized a show at Christie's, "Encountering the Orient: Masterworks from the Dahesh Museum of Art," which is to open on March 27. Is the Dahesh planning on selling some of its art?
"That will never happen," said Amira Zahid, a member of the museum's board. "We're breaking new ground. This is an opportunity to show that art and commerce are not that far apart. We both believe in education and have something to offer the public together."
The exhibition, which includes 30 Orientalist paintings, sculptures and illustrated books, will not be in Christie's main sales gallery, nor will it be in the auction room, Ms. Zahid pointed out.
Diana Bramham, a specialist in 19th-century European paintings at Christie's, said the cross-cultural theme of Orientalism was a "timely topic that our clients and the public at large will be interested in seeing." The show will continue through April 15.
If auctioning any of the museum's holdings is out of the question, adding to them is not, Ms. Bramham said. She emphasized that from time to time the museum has bought art, which makes the exhibition good business for Christie's.