July 2013
Alfred Dehodencq, French, 1822-1882
Study for The Arrest of Charlotte Corday,, ca. 1853
Graphite with pen and sepia ink, 7 1/2 x 11 3/4 in.
Gift of DeCourcy E. McIntosh
2003.27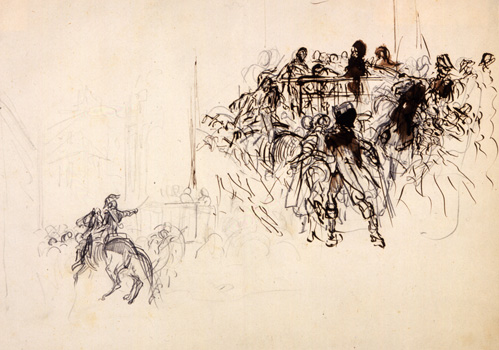 Dehodencq's Romantic work reveals the influence of his teacher, Léon Cogniet, and his love of the writings of Byron and Chateaubriand. Like many 19th-century painters, Dehodencq traveled extensively outside his native France (spending five years in Spain and ten in Morocco) and produced paintings based on people, events, and art encountered during these travels. The author and critic Théophile Gautier wrote of Dehodencq's "uncanny ethnographic aptitude," and this applied not only to his portraits of Spanish and Moroccan figures, but also to the bourgeois and working-class people of France.
The present work, a study for The Arrest of Charlotte Corday (Musée d'Orsay, Paris), which was completed in 1853 but not exhibited until the Salon of 1868, demonstrates Dehodencq's skill in representing active crowds. The work is the aftermath of Corday's murder of the popular revolutionary, Jean-Paul Marat, on July 13, 1793. Although the subject is a major event in the history of the French Revolution (most famously depicted by Jacques-Louis David in the weeks immediately following the murder — Brussels, Musée des Beaux-Arts), Dehodencq treats it more as a genre painting than a history painting. The study shows a preliminary arrangement of figures, and, as with the finished painting, Corday is difficult to locate among the angry mob. This runs counter to the conventions of academic history painting, which required key figures to be recognizable through formal elements like composition and gesture.
Dehodencq was clearly intent on creating a dynamic image, focusing on the violence and frenzy of the mob. This contrasts with earlier depictions of the events around Marat's death, which either valorized Marat, or vilified Corday. Dehondencq, on the other hand, was working in the aftermath of the 1848 Revolution, a particularly bloody and ultimately unsuccessful rebellion against the conservative French government. It is likely that The Arrest of Charlotte Corday is in some ways a reflection of the unbridled mob mentality witnessed during the 1848 uprisings. The artist's first biographer, Gabriel Séailles (from whose collection this drawing originates), noted, "This is the Revolution as we saw it, the terrible crowd that diminishes the most courageous." In Séailles estimation, Corday is the courageous one for putting a stop to Marat's revolutionary zealotry.