May 2014
Georges Jules Victor Clairin, (French, 1843-1919)
In Egypt, the Prosperous Town, Peace (En Egypte, la ville heureuse, la paix),
Oil on canvas, 58 1/2 x 41 in.
Signed and dated lower left: G. Clairin 1913
1996.18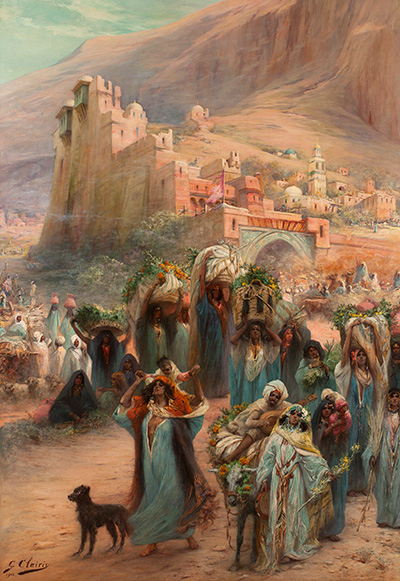 Best known for his portraits, landscapes, decorative compositions and historical subjects, Clairin also produced genre scenes inspired by extensive travel in Europe, North Africa, and the Middle East. After studying at the École des Beaux-Arts with Édouard Picot and Isidore Pils, Clairin traveled with his friend and fellow student Henri Regnault to Spain in 1868 and then to Tangiers in Morocco the following year until the outbreak of the Franco-Prussian War in 1870. Captivated by the East's exotic surroundings, Clairin returned to the region a number of times and continued to produce Orientalist–themed works until World War I, exhibiting them mostly at the Salon of the Society of French Artists. He detailed his many travels in his 1906 memoir Souvenirs d'un peintre (Souvenirs of a Painter), written by André Beaunier.
In Egypt, the Prosperous Town, Peace exemplifies Clairin's later Orientalist style, which became increasingly theatrical and fanciful, with extensively detailed costuming. A sweeping procession of Egyptian figures parade past what seems to be an imaginary town built into the desert cliffs, marked at its entrance by a large, blue-and-white-tiled iwan (a large vaulted space with an opening on one side that is common in Islamic architecture). The bounty of baskets filled with flowers and earthenware jars that the women carry on their heads, as well as the lute played by the man riding the donkey in the foreground — a traditional symbol of harmony and peace —testify to the prosperity of the town. The pendant exhibited alongside this painting at the Salon of 1913, In Egypt, the Town Ravaged by Barbarians (L'Egypte, la ville ravage par les barbes, la guerre) was reproduced in the Catalogue Illustré, but its current location is unknown. Clairin's pair was well-received. The critic Guillaume Apollinaire referred to Clairin as "a fine Egyptologist" in his 1913 exhibition review published in Montjoie! and then praised the pendants for their lyrical quality two weeks later in L'Intransigeant: "Clairin's exhibit is, in my opinion, the best thing this painter has done since I have been practicing the art of titillating artists. Did he draw his subjects from The Arabian Nights? It is possible. In any case, there is lyricism in these canvases."
The witty and elegant Clairin was well known in Parisian artistic, theatrical, and literary circles and was a great friend of the actress Sarah Bernhardt, whom he portrayed in various roles. Among his many decorative commissions were five of the panels representing the twelve months installed in the Salon du Glacier at the Paris Opéra. He was awarded Officer of the Legion of Honor in 1897.