Peder Mønsted (Danish, 1859–1941)
Heather-covered Hills by the Lakes near Silkeborg, 1907
Oil on canvas, 48 x 79 in.
Signed and dated lower left: P. Monsted 1907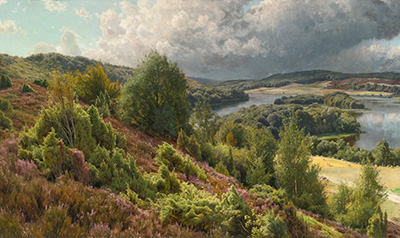 Born at the tail end of the "golden age" of Danish painting, Mønsted established his reputation primarily as a naturalist landscape artist — especially admired for his poetic views of nature. He trained at the Copenhagen Academy from 1875 to 1879 but left without taking his final examination and continued to study independently with other artists, including the Danish artist Peder Severin Krøyer and the French academic painter William-Adolphe Bouguereau. Mønsted lived in Denmark but continually traveled in Italy, France, Switzerland, Norway, Algiers, Egypt, and Greece, exhibiting his works in his native country as well as in Paris and Munich. He was best known for landscapes of his home country, though he also created scenes inspired by his travels—both landscapes and portraits, like his Portrait of a Nubian (in the Museum collection).
Heather-Covered Hills by the Lakes near Silkeborg demonstrates the artist's skill in capturing the light, air, and movement of the clouds in his typical photo-realistic manner, which has often been described as "virtuoso naturalism." In the foreground, the bright sunlight illuminating the lush foliage is juxtaposed with the dark storm clouds that cast a shadow over the distant hills of the background. The bright light of the foreground serves to highlight the abundant, purple heather that Mønsted celebrates in this image. Silkeborg, after all, is located on the banks of the River Guden — Denmark's longest waterway, renowned for the abundant flora and fauna on its banks. In Heather-Covered Hills by the Lakes near Silkeborg, Mønsted pays loving attention to his native topography, a fact emphasized by the monumental size of the canvas.