Antoine-Louis Barye (French, 1796–1875)
Horse Attacked by a Lion, first bronze edition ca. 1857
Bronze, reddish brown patina, 18 1/2 x 8 1/2 x 15 in.
Signed on base front right: BARYE.
1995.16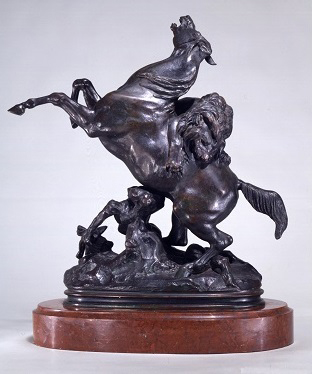 Widely acknowledged today as the premier "animalier" sculptor of the 19th century and an important figure of French Romanticism, Antoine-Louis Barye's genius for rendering animals with unsurpassed realism, while also imbuing them with a sense of emotion and drama, prompted his contemporary, the critic Théophile Gautier, to dub him the "Michelangelo of the menagerie." A pioneer in terms of both his subject matter and his marketing techniques, Barye was the first sculptor to establish his own foundry to manufacture and sell small, tabletop bronzes directly to the bourgeois public, thus transforming the minor genre of animal sculpture into a major category in 19th-century art.
Horse Attacked by a Lion clearly reflects the emotionalism of Romanticism. A favorite motif of Romantic artists, the rearing horse in this work creates an overall diagonal thrust to the composition, bringing an additional note of dynamism to a work illustrating mortal combat between predator and prey. The drama of Horse Attacked by a Lion further stems from the violence of this struggle, which is accentuated by the clearly visible claw marks left in the horse's flank by the lion's paw as it tries to stabilize his precarious position. Barye made at least two versions of Horse Attacked by a Lion (reportedly exhibiting his first version at the Salon of 1833). The work in the Dahesh Museum's collection is an example of the second variation, which differs from the first in Barye's addition of a leafy branch projecting from the tree stub stabilizing the rearing horse.