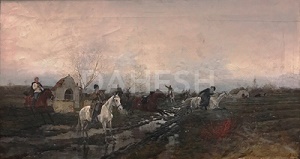 Antoni Piotrowski
(Polish, 1853–1924)
Scene of the January Uprising of 1863
, 1882
Oil on canvas, 21 1/2 x 41 in.
Signed lower left:
A. Piotrowski. 1882. Krakow
.
2017.1
Antoni Piotrowski was a Realist painter and war correspondent, whose battle illustrations frequently appeared in French and British publications. After training in Wo
jciech Gerson's studio and at the Academy of Fine Arts in Munich, he studied under Poland's preeminent history painter Jan Matejko. He painted genre scenes and mythological vignettes, but his primary subject matter was battle imagery, and in 1885 he traveled to the Balkans to portray the Serbo-Bulgarian war. His cycle of nine paintings depicting this conflict toured Europe and won him the position of Court Painter to the Duke of Bulgaria as well as the prestigious Austrian Order of Litteris et Artibus. The present work depicts the recurrent motif of the Polish uprising against the Russian Empire in 1863: a group of Polish insurgents chase down an enemy soldier, who looks back in terror at a rebel preparing to fire on him.
Mrs. Mervat Zahid, President of the Dahesh Museum Board of Trustees, purchased this work from the van Eyck family estate, in memory of Mrs. Irene van Eyck—beloved mother of Museum board member Mr. Peter van Eyck. It is the second work by Piotrowski to enter the collection.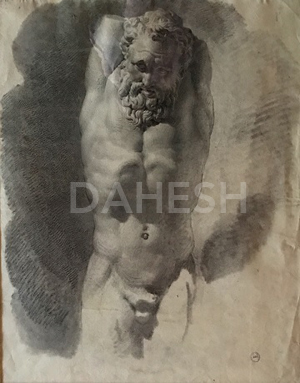 Tommaso Minardi
(Italian, 1787–1871)
Study after an Antique Sculpture of Marsyas
(
Studio tratto da un'antica scultura di Marsyas
), ca. 1810–20
Charcoal and white chalk on wove paper, 18 3/4 x 15 in.
Gift of Gina Milano in honor of Frank, Lucille, and Robert Milano
2016.6
The Dahesh recently acquired 11 drawings and a sketch album containing an additional 42 drawings by the Italian artist Tommaso Minardi, the generous gift of Gina Milano in honor of Frank, Lucille, and Robert Milano.
Minardi was a celebrated draftsman, who influenced generations of artists through his publications on aesthetics and as director of the Accademia di Belle Arti in Perugia (1819–1822) and professor at the Accademia di San Luca in Rome (1822–1852). The drawings and sketch album comprise exquisite examples of figure and facial studies as well as copies after Classical and Renaissance works, demonstrating Minardi's divergent interests in Neoclassicism and Purismo––the Italian movement he championed that drew inspiration from the Nazarenes, a contemporary group of German artists active in Rome. Many of his works are notable for their study of light effects, as illustrated in the drawing of an ancient sculpture of Marsyas, in which he recreates the raking light across a marble surface.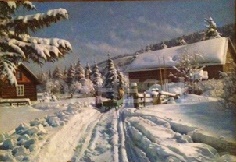 Peder Mork Mønsted
(Danish, 1859–1941)
Snow Scene
, ca. 1917–18
Oil on canvas, 28 x 39 3/4 in.
Signed and inscribed lower right:
P. Mônsted Skogli-Lillehammer
Gift of C. Frederick Vorm and Arlowa S. Vorm
2015.6
Born at the end of the "Golden Age" of Danish painting, Mønsted is best known for landscapes of his home country in a style that has often been described as "virtuoso naturalism." Our recently acquired painting is among the artist's numerous winter scenes that illustrate a diverse set of influences — the distant figures recall one of the earliest winter landscapes, The Hunters in the Snow (1565, Kunsthistorisches Museum, Vienna) by Pieter Bruegel the Elder, which is complemented by the detailed brushwork typical of Danish "Golden Age" painting and an Impressionist's sensitivity to light. In Snow Scene Mønsted depicted a vignette from the rural outskirts of Lillehammer, which shows two figures moving along a snowy road past rustic cottages. The combination of charm and artistic skill in Mønsted's winter scenes proved popular, and he showed four different views from around Lillehammer at the prestigious art exhibition at Charlottenburg Palace in Copenhagen, one in 1918, two in 1920, and another in 1923.
Snow Scene was generously donated to the Museum by Charles Frederick Vorm, and it joins two paintings already in the Dahesh collection — a fine Orientalist image Portrait of a Nubian (ca. 1886) and Heather-covered Hills by the Lakes near Silkeborg (1907).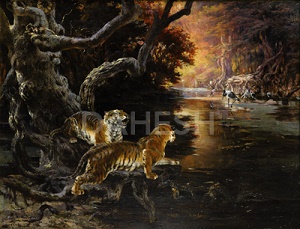 Rudolf Ernst
(Austrian, 1854–1932)
Two Tigers on the Hunt
Oil on panel, 28 1/4 x 36 in.
Signed lower left:
R. Ernst
2015.5
Although famous for his Orientalist images of daily life, Ernst also produced a series of paintings of large felines as captives or pets, resting or on the prowl like Two Tigers on the Hunt. This work, however, is strikingly different from his other bright tiger compositions, such as The Tiger Hunt in the Dahesh Collection. Here, Ernst chose a dark and ominous setting, with two tigers standing at the base of a gnarled tree eyeing their prey across the stream. While he traveled extensively through the Middle East and North Africa, Ernst could not have observed such a scene in that area of the world—the baobab tree is native to Africa, a motif he also used in Cobbler in the Shade of a Baobab Tree, where he fused a Turkish kiosk with a cobbler who seems to be wearing an eclectic Egyptian and North African costume (private collection).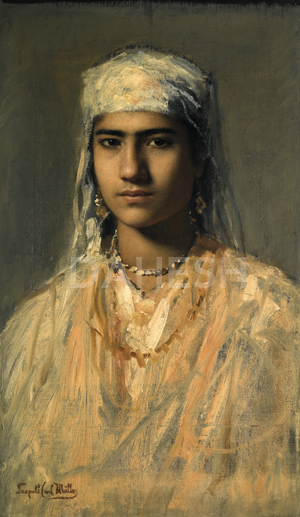 Leopold Carl Müller
(Austrian, 1834–1892)
An Egyptian Girl
Oil on canvas, 18 1/2 x 11 in.
Signed lower left:
Leopold Carl Müller
2015.4
Best known for his color and light effects, Müller enjoyed a successful career as an Orientalist painter and instructor at the Vienna Academy. He visited Egypt nine times between 1873 and 1886—earning him the nickname "Müller the Egyptian" from his students—where he captured the country's everyday life and its people. He wrote his sisters in 1881, "Currently, I only wish to paint a picture which reproduces, even to some degree, the magic of this landscape. I wish you could see the picturesque brown and black Arabs, Nubians, Biscahris, and Barabas gathering in the streets in colorful crowds." An Egyptian Girl is an exquisite example of Müller's sensitive bust- or three-quarter-length portraits he made of the different ethnic types. In this picture of a girl shown from the chest up, Müller limits his palette to ochre and brown tones, juxtaposing loose brushstrokes on the girl's garments and a smooth matte finish on her face in order to intensify her solemn expression—a technique that goes back to the Spanish master Velasquez.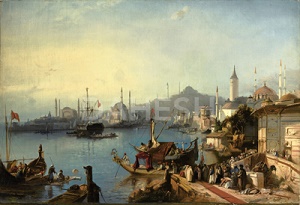 Jacob Jacobs
(Belgian, 1812–1879)
General View of Constantinople
(
Vue Générale de Constantinople
), 1842
Oil on canvas, 19 x 27 1/4 in.
Signed and dated lower right:
J. Jacobs / ..42
.
2015.3
Best known for his Romantic European landscapes and seascapes—and as an influential instructor in landscape painting at the renowned Antwerp Academy of Fine Arts—Jacob Jacobs also painted Orientalist scenes inspired by his travels to Egypt and Turkey in the late 1830s. General View of Constantinople is one of several paintings by the artist offering a picturesque view of Istanbul's Golden Horn, and some of the city's famous sites, including Hagia Sophia and its newly added minarets, as well as the Galata Tower. A version of this painting was displayed at the 1842 Brussels Salon, where it won a gold medal, and was described as showing Sultan Mahmoud II disembarking in Tophane, a neighborhood in Constantinople (modern day Istanbul).
General View of Constantinople is the first work by Jacobs to enter the Dahesh collection.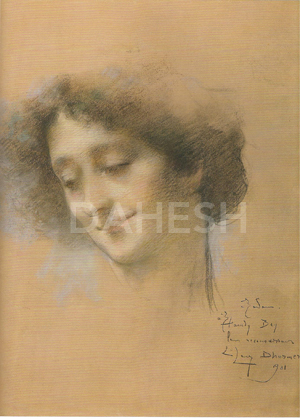 Lucien Lévy-Dhurmer
(French, 1865–1953)
Portrait of 'Naile Hanim', Mme. Hamdi Bey
Pastel and charcoal on paper, 16 3/4 x 13 3/4 in.
Signed and inscribed lower right:
à Madame / Hamdy Bey / Pour reconnaissance / L. Lévy Dhurmer / 1901
2015.2
A practitioner of the late-19th century Symbolist and Art Nouveau movements in France, Lévy-Dhurmer was also a popular portraitist, who excelled in the medium of pastel. His Portrait of 'Naile Hanim,' Mme. Hamdi Bey (1901) is an intimate portrait dedicated by the artist to the sitter, the second wife of Osman Hamdi Bey, a prominent Ottoman painter, archaeologist, and administrator.
This is the first work by Lévy-Dhurmer to enter the Dahesh Museum collection.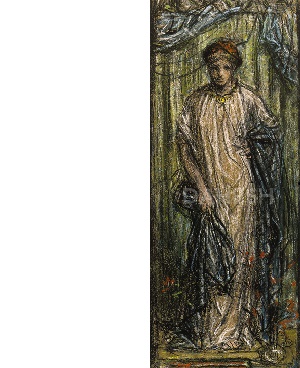 Albert Joseph Moore, A.R.W.S.
(British, 1841–1893)
A Standing Female Figure
Colored chalk on brown paper, 11 1/2 x 4 1/2 in.
Signed lower right with anthemion
2014.8
Moore's drawing, A Standing Female Figure, is typical of the British artist's luxurious Classical compositions, which display idealized, placid female figures. An advocate of the theory of "art for art's sake," Moore emphasized color and form in this work over narrative content. This small sketch may be connected to the artist's life-size painting Sapphires (1877, Birmingham Museum and Art Gallery), or it may have been conceived as an independent work. Both share a similar composition, however the color scheme is entirely different in the final canvas.
A Standing Female Figure is the first work by Moore to enter the Dahesh Museum Collection.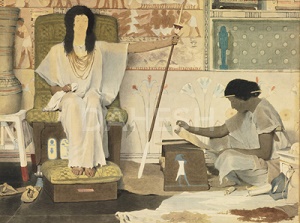 Sir Lawrence Alma-Tadema
(Dutch/British, 1836–1912)
Study for
Joseph, Overseer of Pharaoh's Granaries
, ca. 1874
Pencil and watercolor heightened with gouache on card, 16 3/4 x 22 in.
2014.7
This sheet by Alma-Tadema is related to the splendid painting in the Dahesh Museum collection, Joseph, Overseer of Pharaoh's Granaries (acquired in 2002), first exhibited in 1874 at the Royal Academy. The subject derives from the Book of Genesis, with Joseph seated on a throne in his role as the Pharaoh's overseer of the royal granaries, accompanied by a scribe reading him the account of sales. The finished painting follows the general composition and colors of the sketch, with the addition of details of the ancient Egyptian decorations and accoutrements. This study was in the collection of Andy Warhol.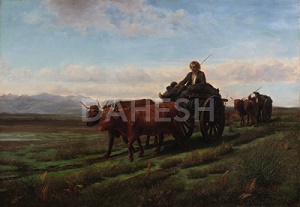 Rosa Bonheur
(French, 1822–1899)
Going to Market
, 1851
Oil on canvas, 19 x 27 1/4 in.
Signed and dated lower right:
Rosa Bonheur 1851
2014.6
When Bonheur painted Going to Market, her reputation as an animal painter was already firmly established. The composition, peasants with their ox-drawn carts, demonstrates Bonheur's command of animal anatomy, which she had studied at horse fairs, cattle markets, and in the family menagerie. While Bonheur won the highest artistic and governmental honors in France, her works were also greatly admired in Great Britain and the United States.
This is the seventh work by Bonheur to enter the Dahesh Museum collection.
The Dahesh Museum of Art has received a generous gift of three sculptures from Tracy and Laurel Pulvers.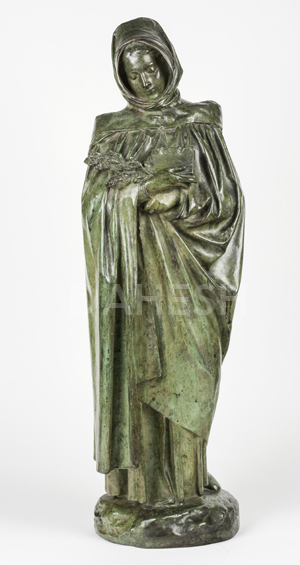 Aimé-Jules Dalou
(French, 1838–1902)
The Woman of Boulogne
Bronze with green patina, 24 3/4 x 7 7/8 x 6 5/8 in.
Signed on base back top: 
Dalou
Foundry mark on base back bottom edge center: 
SUSSE Fres PARIS …rcue
Foundry mark on base bottom right: 
SUSSE FRÈRES EDITEURS PARIS
.
Inscribed on base bottom right:
 Susse Fes EJes Paris
Gift of Tracy and Laurel Pulvers
2014.5
Best known for his public monuments in Paris, in 1870 Dalou began to create statuettes of women. During his exile in London from 1871 to 1879, he executed a series of women from Boulogne—a theme made popular by the paintings of Alphonse Legros, who also lived in England at the same time. The original composition, entitled Palm Sunday at Boulogne, was exhibited at the Royal Academy in 1872 and purchased by George Howard, later Earl of Carlisle. A girl returning from church, clasps a prayer book and a branch of leaves, indicating the Palm Sunday mass. In London, Dalou frequently exhibited at the Royal Academy and taught at the National Art Training School in South Kensington (later the Royal College of Art), where he had a profound influence on the development of British sculpture.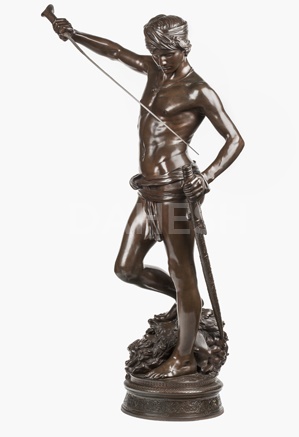 Marius Jean Antonin Mercié
(French, 1845–1916)
David
, ca. 1872
Bronze, brown patina, 25 1/2 x 12 3/4 x 17 7/8 in.
Signed on base top right: 
A. MERCIÉ
Stamped on base at side back center: 
REDUCTION MECANIQUE A. COLLAS BREVETÉ
Gift of Tracy and Laurel Pulvers
2014.4
Mercié, one of the most successful sculptors of late 19th- and early 20th-century France, began as a pupil of François Jouffroy and Alexandre Falguière at the École des Beaux-Arts in Paris. He won the Prix de Rome in 1868 and found immediate success with the first plaster model of David that he executed while in Rome. The sculpture symbolized a glimmer of hope for France after its crushing defeat by Prussia. David, armed with a slingshot, brought down the giant Goliath, proving that France too could triumph over its enemy. The State awarded Mercié the Legion of Honor for the work, making him the only artist to receive this distinction while still a student at the French Academy. In 1872 the state commissioned a bronze version of David (Musée d'Orsay), and the Barbedienne foundry cast a miniature version, in six different sizes. The work was widely praised by critics and even caught the attention of Cézanne, who drew the statue on the back of a sketchbook page.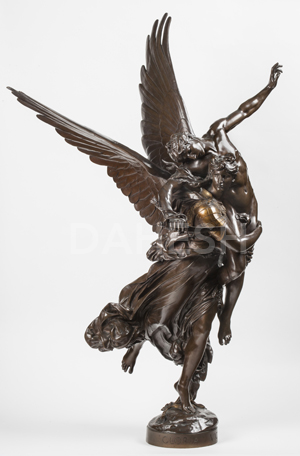 Marius Jean Antonin Mercié
(French, 1845–1916)
Gloria Victis
(
Glory to the Vanquished
), modeled ca. 1874, cast after 1879
Bronze, dark brown patina with gilt highlights, 36 5/8 x 21 x 16 in.
Signed on base right: 
A. MERCIE
Inscribed on base at front edge: 
GLORIA VICTIS
Foundry mark on back base: 
F. BARBEDIENNE, Fondeur Paris
Stamped on back base: 
REDUCTION MECANIQUE A. COLLAS BREVETE
Gift of Tracy and Laurel Pulvers
2014.3
Mercié executed the plaster model for this group while studying in Italy as a Prix de Rome boursier, and exhibited it at the 1874 Salon. The winged female figure carrying a wounded soldier holding a broken sword expressed the loss and sacrifice of the French at the hands of the Prussians in the 1870–71 war. The sculpture won critical and popular acclaim. In his review of the Salon that year, the critic Jules-Antoine Castagnary observed: "while monarchists quarrel over the debris of our battered fortunes…there exists a young sculptor who has undertaken to speak directly to our nation and to console our people who have suffered so much." Mercié received a medal of honor; the city of Paris purchased the sculpture for 12,000 francs and the model was cast in bronze by Thiébaut et fils (Musée du Petit Palais, Paris). Replicas of it adorned monuments dedicated to those who served in the Franco-Prussian War in many towns and cities throughout France, and the Barbedienne Foundry provided bronze reproductions in different sizes.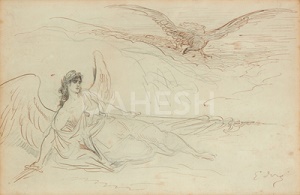 Gustave Doré
(French, 1832–1883)
Study for
The Black Eagle of Prussia
, 1870-71
Graphite, black and brown ink on off-white wove paper, 9 5/8 x 14 1/8 in.
Signed lower right:
G. Doré
2014.2
This sheet by Gustave Doré, the most recent addition to the Museum's substantial drawing collection, is of particular interest because it is a study for an important painting in the Museum collection. The Black Eagle of Prussia is one of three monumental canvases the artist painted in 1870–71, when Prussia defeated France and civil war broke out in Paris. One of three known studies for the painting, it most likely documents Doré's first idea for the subject. With rapidly executed strokes, Doré determines the general composition: a defeated and prostrate France, embodied by a winged woman wearing a robe and Phrygian bonnet, clutching a broken sword and standard, is threatened by an ominous black eagle, the emblem of Prussia. The drawing differs in several areas from the finished painting, which adds fallen battlefield soldiers and enlarges the size of the bird in relation to the figure.
This is the fourth work by the artist to enter the collection.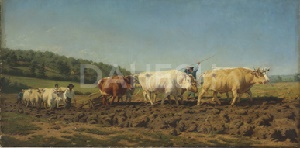 Elizabeth Jane Gardner Bouguereau
(American, 1837–1922)
Ploughing in the Nivernais
(also called
The First Dressing
), 1868
Oil on canvas, 25 3/4 x 51 in.
Signed and inscribed lower right:
E.J. Gardner/Rosa Bonheur/Paris 1868
2014.1
One of the first American women to study art in Paris, Elizabeth Jane Gardner Bouguereau funded her training by initially making portraits and copies of famous paintings at the Louvre and Luxembourg Museums. Copying works by established artists was a common practice for the student, and this is an especially appropriate painting for the young American to select. A great admirer of Rosa Bonheur—who became her friend and mentor—Gardner aspired to improve her skill at painting animals, revealing to her biographer, Theodore Stanton: "I realized that the animals in my compositions were very inferior to Rosa Bonheur's."
Before entering the Académie Julian in 1873 and becoming William Adolphe Bouguereau's student and eventually his wife, she studied with various prominent faculty members. This canvas, painted during her time of study with the great animal sculptor Antoine-Louis Barye at the Paris Botanical Gardens and Zoo, is a copy of Bonheur's acclaimed Realist painting Ploughing in the Nivernais (also called The First Dressing), commissioned by the French state in 1848 and displayed at the Luxembourg Museum (now in the Musée d'Orsay). During her 58-year career in Paris, Gardner exhibited her work at the Paris Salon and became the first and only American woman to win a medal.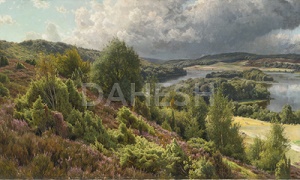 Peder Mork Mønsted
(Danish, 1859–1941)
Heather-covered Hills by the Lakes near Silkeborg,
1907
Oil on canvas, 48 x 79 in.
Signed and dated lower left:
P. Monsted 1907
2013.10
Born at the tail end of the "Golden Age" of Danish painting, Mønsted established his reputation primarily as a naturalist landscape artist — especially admired for his poetic views of nature. He trained at the Copenhagen Academy from 1875 until 1879 but left without taking his final examination and continued to study independently with other artists, including the French academic painter William-Adolphe Bouguereau. Mønsted lived in Denmark but continually traveled in Italy, France, Switzerland, Norway, Algiers, Egypt, and Greece, exhibiting his works in his native country as well as in Paris and Munich. He also painted portraits, including Portrait of a Nubian (in the Museum collection). Heather-covered Hills by the Lakes near Silkeborg demonstrates the artist's skill in capturing the light, air, and movement of the clouds. Silkeborg is located on the banks of the River Guden — Denmark's longest waterway, renowned for the abundant flora and fauna on its banks.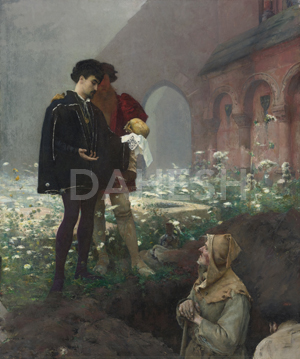 Pascal-Adolphe-Jean Dagnan-Bouveret 
(French, 1852–1929)
Hamlet and the Gravediggers,
1883
Oil on canvas, 40 x 33 1/2 in.
Signed and dated lower left:
J Dagnan-B 1883
2013.9
Among the most creative students of the renowned academician Jean-Léon Gérôme, Dagnan-Bouveret staunchly maintained the academic tradition while modernizing it with contemporary themes and organizing his compositions with photographic techniques. Officially recognized and honored, Dagnan-Bouveret was named Officer of the Legion of Honor in 1891 and member of the Institut de France in 1900. Hamlet and the Gravediggers — Dagnan-Bouveret's second work to enter the Museum collection — depicts the famous passage from Act V, Scene I of Shakespeare's Hamlet, when the Danish prince discovers the scull of Yorick the Jester and contemplates the fate of all mankind. Dagnan-Bouveret's friends, the artists Gustave Courtois and Karl von Steffen, posed for the figures of Horatio and Hamlet and the artist himself appears at the lower right, photographically cropped and facing the action. Painted in the lighthearted and somewhat satiric "troubadour style," Dagnan-Bouveret's naturalist tendencies are most clearly seen in the ragged figures of the gravediggers, depicted with his characteristic exactitude. First exhibited at the Paris Salon of 1884, it was popularized through reproductions published the same year. The artist gave Hamlet and the Gravediggers to his teacher, Gérôme, and a subsequent owner, the American banker George F. Baker donated it to The Metropolitan Museum of Art.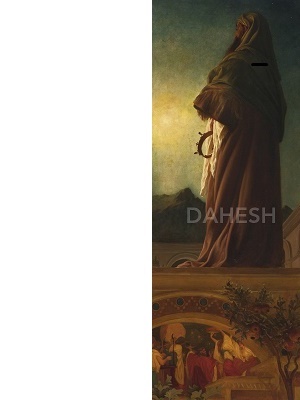 Frederick, Lord Leighton, P.R.A.
(British, 1830–1896)
The Star of Bethlehem
, ca. 1862
Oil on canvas, 61 x 21 3/4 in.
2013.8
Although now best known for his innovative classical themes, in the 1860s Leighton created a series of biblical compositions including his powerful Star of Bethlehem, which the Museum has recently purchased. The subject of this work, which he exhibited at the Royal Academy in 1862, is a New Testament theme, though it does not reference a specific event in the Gospels. The bearded figure in a richly draped robe could be identified as a number of biblical figures if not for the explanatory sentence included in the Royal Exhibition catalogue and in the inscription on the original frame's plaque "One of the Magi, from the terrace of his house, stands looking at the star in the East. The lower part of the picture indicates a revel, which he may be supposed to have just left.". Leighton chose to paint what he described as a "long and narrow" composition of "somewhat fanciful" subject. With crown in hand, the king appears to have left behind the worldly pleasures of his palace, illustrated by the musicians and dancers in the painting's lower register. The starlight beckons him onto a spiritual journey. The disproportionate duality between the two realms and the radiant light emanating from the star give the painting its magical appeal.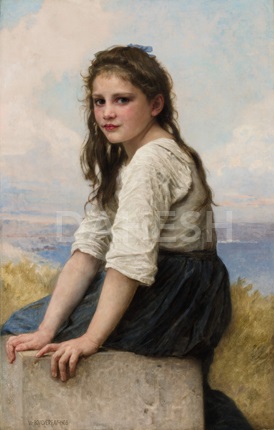 William-Adolphe Bouguereau
(French 1825–1905)
By the Sea,
1903
Oil on canvas, 37 3/4 x 24 1/12 in.
Signed and dated lower left:
W-BOUGUEREAU 1903
2013.7
Among Bouguereau's most popular images with American collectors are his tender pictures of young peasant girls that evoke youth, purity, and beauty. As in the case of many of his works, the artist sent By the Sea in 1903 to the influential New York art gallery Knoedler & Co where it was acquired by Henry Reinhardt & Co., a Milwaukee based dealer who also had galleries in Chicago, New York and Paris. Then Richard Taylor Robinson a successful entrepreneur who studied pharmaceuticals at the University of Michigan (class of 1879) purchased the painting in 1905, and it remained in his family until it was acquired by the Dahesh Museum of Art.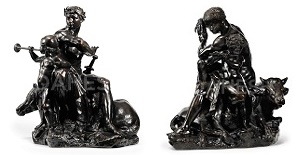 Antoine-Louis Barye
(French, 1796–1875)
War
Bronze, dark brown and reddish patina, 21 x 13 1/2 x 20 in.
Inscribed on base right side:
BARYE
2013.6
Peace
Bronze, dark brown and reddish patina, 21 x 13 1/2 x 20 in.
Signed on base left side: BARYE
2013.5
Although Barye is most known for revolutionizing the genre of animal sculpture, he also received a thorough training in the classical tradition and often represented allegorical and antique subjects. Barye's War and Peace as well as another pendant (Force and Order) were commissioned by the French state in 1854–55 to decorate the Cour du Carrousel (originally called Place Napoléon III) at the newly renovated Louvre. Barye received 5,000 francs for each pair of objects, which were intended to represent the responsibilities of State and citizen. Barye took the traditional image of Hercules Resting as the starting point for these sculptures. In War (on the right), the figure is seated on a recumbent horse, which may represent victory or strength, but his upper body is tense and on the verge of action as the accompanying putto blows his heralding horn. In Peace (on the left), on the other hand, the main figure is resting against an ox, a symbol of peace, listening to a putto playing the flute.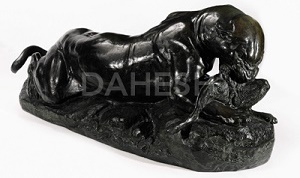 Antoine-Louis Barye
(French, 1795–1875)
Jaquar Devouring a Hare,
modeled
–
1850
Bronze, dark brown patina, 17 1/2 x 40 x 16 in.
Signed on left base edge:
A.L. BARYE.
Inscribed on base edge by tip of the tail:
F. BARBEDIENNE, Fondeur
, Underside incised number
11
2013.4
This work showing a powerfully elongated body of the jaguar with the limp body of its terrified prey, typifies Barye's Romantic images that made him one of the most popular animal sculptors of the 19th century. When he exhibited the bronze of Jaquar Devouring a Hare (Louvre) at the Paris Salon of 1851, critics raved. Edmond de Goncourt wrote that with this sculpture, "the school of historicism had died, given way to art that was both visible and palpable. Just as landscape replaced historical subjects in painting, animals are doing likewise in sculpture. Nature has succeeded man. It represents the evolution of modern  art." Later on, the French avant-garde artist Henri Matisse chose Bayre's sculpture as the model for his first sculpture  of the same title (1899–1901, Baltimore Museum of Art), which he had begun while taking sculpting courses at the École Communal de la Ville in Paris.
From 1893, the foundry Barbedienne, who was responsible for casting much of Bayre's work and making it available to a wider audience, produced bronze reproductions of these statues in three different sizes.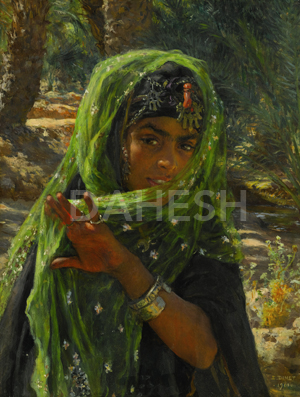 Alphonse-Étienne Dinet,
(French, 1861–1929)
Young Girl with a Veil,
1901
Oil on panel, 13 3/4 x 10 1/2 in.
Signed and dated lower right:
E. Dinet 1901
2013.3
Dinet's paintings and books provided a wealth of information on the traditions and customs of the people in Algeria, a country he made his home. After studying at the Académie Julien in Paris, he made the first of many trips to Algeria in 1884 before settling there in 1904, and converting to Islam in 1913. The American art critic Frederick Morton wrote of Dinet in the journal Brush and Pencil in 1904: "No other painter has evidenced such an intimate knowledge of the East; no one has caught and recorded with such fidelity the spirit of the Orient — people, topography, atmosphere, everything in his canvases is true to fact; no one has vitalized his pictures with the breath that is not of the Occident." Young Girl with a Veil, the second painting by Dinet to enter the Museum's collection, is an exquisite example of the artist's Algerian oeuvre. Here, a bejeweled young girl coyly holds her veil across her bronzed face from the sun revealing her gentle smile and beautiful playful eyes as she gazes at us. Dinet has used this young model in many other works, including The Krouta Game (1901, private collection).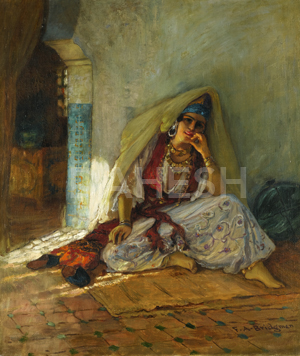 Frederic Arthur Bridgman 
(American, 1847–1928)
Pensive Moments
Oil on canvas, 22 x 18 1/2 in.
2013.2
Bridgman, a renowned late 19th-century American painter, chose to live in France and devote himself to Orientalist subjects — especially North African scenes of daily life. In Pensive Moments, he presents a favorite subject, a North African woman in exotic dress with gauze sleeves, a bodice over her shoulders, and a conical hat usually worn by the women of Tlemcen — a town in northwestern Algeria. Bridgman described the costume in his book Winters in Algiers (1888), commenting that it resembled Moroccan dress because the Algerian city was near the Moroccan border. This recent acquisition — the third oil painting by the artist to enter the Museum's collection — exemplifies Bridgman's later naturalistic style. During the 1880s a freer and more painterly style replaced the meticulously polished compositions influenced by his teacher Jean-Léon Gérôme — as in An Oriental Beauty (in the Museum collection). Bridgman infuses this composition with sunlight pouring through the doorway to illuminate the seated woman who appears to be lost in thought.