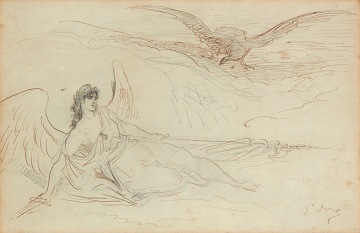 Gustave Doré
(French, 1832–1883)
Study for
The Black Eagle of Prussia
, 1870-71
Graphite, black and brown ink on off-white wove paper, 9 5/8 x 14 1/8 in.
Signed lower right:
G. Doré
2014.2
This sheet by Gustave Doré, the most recent addition to the Museum's substantial drawing collection, is of particular interest because it is a study for an important painting in the Museum collection. The Black Eagle of Prussia is one of three monumental canvases the artist painted in 1870-71, when Prussia defeated France and civil war broke out in Paris. One of three known studies for the painting, it most likely documents Doré's first idea for the subject. With rapidly executed strokes, Doré determines the general composition: a defeated and prostrate France, embodied by a winged woman wearing a robe and Phrygian bonnet, clutching a broken sword and standard, is threatened by an ominous black eagle, the emblem of Prussia. The drawing differs in several areas from the finished painting, which adds fallen battlefield soldiers and enlarges the size of the bird in relation to the figure.
This is the fourth work by the artist to enter the collection.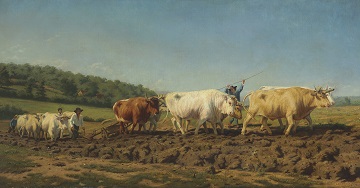 Elizabeth Jane Gardner Bouguereau
(American, 1837–1922)
Ploughing in the Nivernais
(also called
The First Dressing
), 1868
Oil on canvas, 25 3/4 x 51 in.
Signed and inscribed lower right:
E.J. Gardner/Rosa Bonheur/Paris 1868
2014.1
One of the first American women to study art in Paris, Elizabeth Jane Gardner Bouguereau funded her training by initially making portraits and copies of famous paintings at the Louvre and Luxembourg Museums. Copying works by established artists was a common practice for the student, and this is an especially appropriate painting for the young American to select. A great admirer of Rosa Bonheur—who became her friend and mentor—Gardner aspired to improve her skill at painting animals, revealing to her biographer, Theodore Stanton: "I realized that the animals in my compositions were very inferior to Rosa Bonheur's."
Before entering the Académie Julian in 1873 and becoming William Adolphe Bouguereau's student and eventually his wife, she studied with various prominent faculty members. This canvas, painted during her time of study with the great animal sculptor Antoine-Louis Barye at the Paris Botanical Gardens and Zoo, is a copy of Bonheur's acclaimed Realist painting Ploughing in the Nivernais (also called The First Dressing), commissioned by the French state in 1848 and displayed at the Luxembourg Museum (now in the Musée d'Orsay). During her 58-year career in Paris, Gardner exhibited her work at the Paris Salon and became the first and only American woman to win a medal.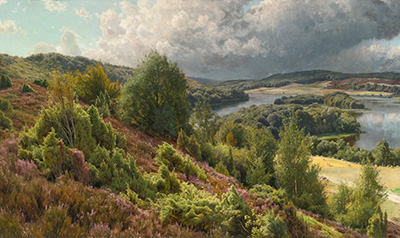 Peder Mork Mønsted 
(Danish, 1859–1941)
Heather-covered Hills by the Lakes near Silkeborg,
1907
Oil on canvas, 48 x 79 in.
Signed and dated lower left:
P. Monsted 1907
2013.10
Born at the tail end of the "golden age" of Danish painting, Mønsted established his reputation primarily as a naturalist landscape artist — especially admired for his poetic views of nature. He trained at the Copenhagen Academy from 1875 until 1879 but left without taking his final examination and continued to study independently with other artists, including the French academic painter William-Adolphe Bouguereau. Mønsted lived in Denmark but continually traveled in Italy, France, Switzerland, Norway, Algiers, Egypt, and Greece, exhibiting his works in his native country as well as in Paris and Munich. He also painted portraits, including Portrait of a Nubian (in the Museum collection). Heather-covered Hills by the Lakes near Silkeborg demonstrates the artist's skill in capturing the light, air, and movement of the clouds. Silkeborg is located on the banks of the River Guden — Denmark's longest waterway, renowned for the abundant flora and fauna on its banks.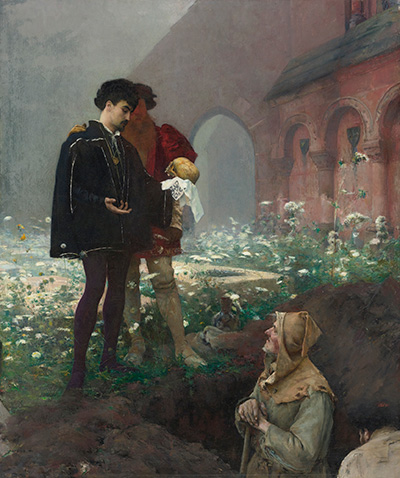 Pascal Adolphe Dagnan-Bouveret 
(French, 1852–1929)
Hamlet and the Gravediggers,
1883
Oil on canvas, 40 x 33 1/2 in.
Signed and dated lower left:
J Dagnan-B 1883
2013.9
Among the most creative students of the renowned academician Jean-Léon Gérôme, Dagnan-Bouveret staunchly maintained the academic tradition while modernizing it with contemporary themes and organizing his compositions with photographic techniques. Officially recognized and honored, Dagnan-Bouveret was named Officer of the Legion of Honor in 1891 and member of the Institut de France in 1900. Hamlet and the Gravediggers — Dagnan-Bouveret's second work to enter the Museum collection — depicts the famous passage from Act V, Scene I of Shakespeare's Hamlet, when the Danish prince discovers the scull of Yorick the Jester and contemplates the fate of all mankind. Dagnan-Bouveret's friends, the artists Gustave Courtois and Karl von Steffen, posed for the figures of Horatio and Hamlet and the artist himself appears at the lower right, photographically cropped and facing the action. Painted in the lighthearted and somewhat satiric "troubadour style," Dagnan-Bouveret's naturalist tendencies are most clearly seen in the ragged figures of the gravediggers, depicted with his characteristic exactitude. First exhibited at the Paris Salon of 1884, it was popularized through reproductions published the same year. The artist gave Hamlet and the Gravediggers to his teacher, Gérôme, and a subsequent owner, the American banker George F. Baker donated it to The Metropolitan Museum of Art.

Frederick, Lord Leighton, P.R.A.
(British, 1830–1896)
The Star of Bethlehem
(One of the Magi, from the terrace of his house, stands looking at the star in the East. The lower part of the picture indicates a revel, which he may be supposed to have just left.)
Oil on canvas, 61 x 21 3/4 in.
2013.8
Although now best known for his innovative classical themes, in the 1860s Leighton created a series of biblical compositions including his powerful Star of Bethlehem, which the Museum has recently purchased. The subject of this work, which he exhibited at the Royal Academy in 1862, is a New Testament theme, though it does not reference a specific event in the Gospels. The bearded figure in a richly draped robe could be identified as a number of biblical figures if not for the explanatory sentence included in the Royal Exhibition catalogue and in the inscription on the original frame's plaque (noted in the title above). Leighton chose to paint what he described as a "long and narrow" composition of "somewhat fanciful" subject. With crown in hand, the king appears to have left behind the worldly pleasures of his palace, illustrated by the musicians and dancers in the painting's lower register. The starlight beckons him onto a spiritual journey. The disproportionate duality between the two realms and the radiant light emanating from the star give the painting its magical appeal.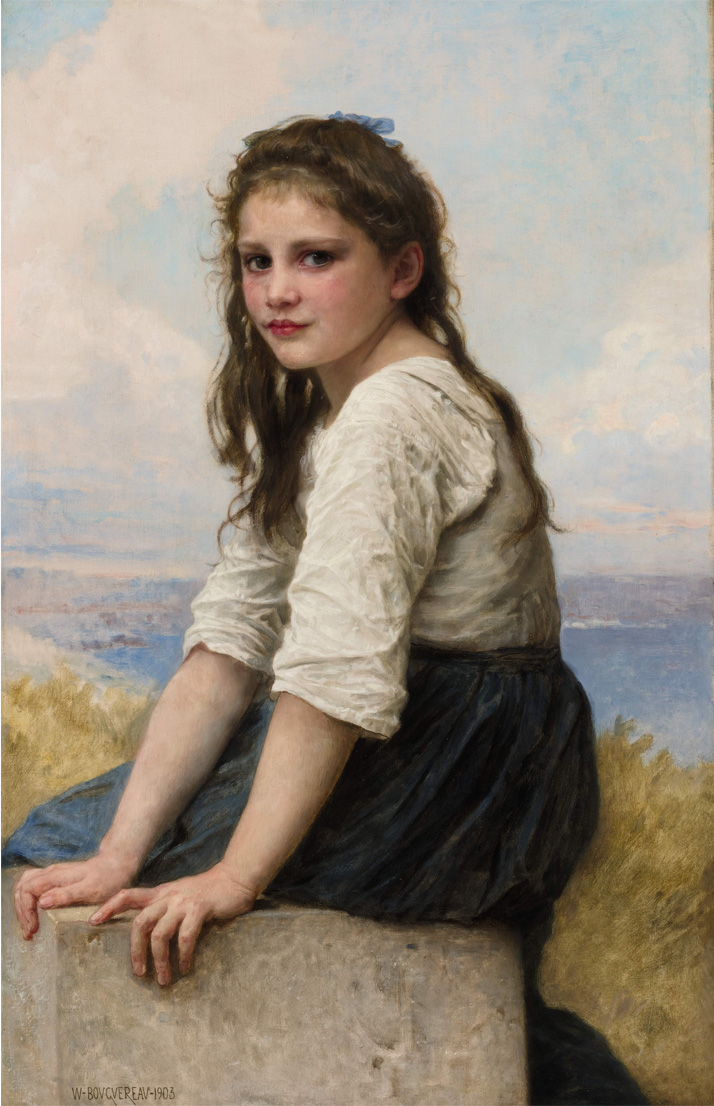 William-Adolphe Bouguereau
(French 1825–1905)
By the Sea,
1903
Oil on canvas, 37 3/4 x 24 1/12 in.
Signed and dated lower left:
W-BOUGUEREAU 1903
2013.7
Among Bouguereau's most popular images with American collectors are his tender pictures of young peasant girls that evoke youth, purity, and beauty. As in the case of many of his works, the artist sent By the Sea in 1903 to the influential New York art gallery Knoedler & Co where it was acquired by Henry Reinhardt & Co., a Milwaukee based dealer who also had galleries in Chicago, New York and Paris. Then Richard Taylor Robinson a successful entrepreneur who studied pharmaceuticals at the University of Michigan (class of 1879) purchased the painting in 1905, and it remained in his family until it was acquired by the Dahesh Museum of Art.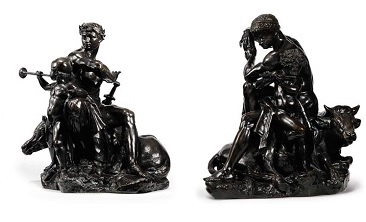 Antoine-Louis Barye
(French, 1796–1875)
War
Bronze, dark brown and redish patina, 21 x 13 1/2 x 20 in.
Signed on base side right:
BARYE
2013.6
Peace
Bronze, dark brown and redish patina, 21 1/2 x 13 1/2 x 18 1/2 in.
Signed on base side left: BARYE
2013.5
Although Barye is most known for revolutionizing the genre of animal sculpture, he also received a thorough training in the classical tradition and often represented allegorical and antique subjects. Barye's War and Peace as well as another pendant (Force and Order) were commissioned by the French state in 1854–55 to decorate the Cour du Carrousel (originally called Place Napoléon III) at the newly renovated Louvre. Barye received 5,000 francs for each pair of objects, which are intended to represent the responsibilities of State and citizen. Barye took the traditional image of Hercules Resting as the starting point for these sculptures. In War, the figure is seated on a recumbent horse, which may represent victory or strength, but his upper body is tense and on the verge of action as the accompanying putto blows his heralding horn. In Peace, on the other hand, the main figure is resting against an ox, a symbol of peace, listening to a putto playing the flute.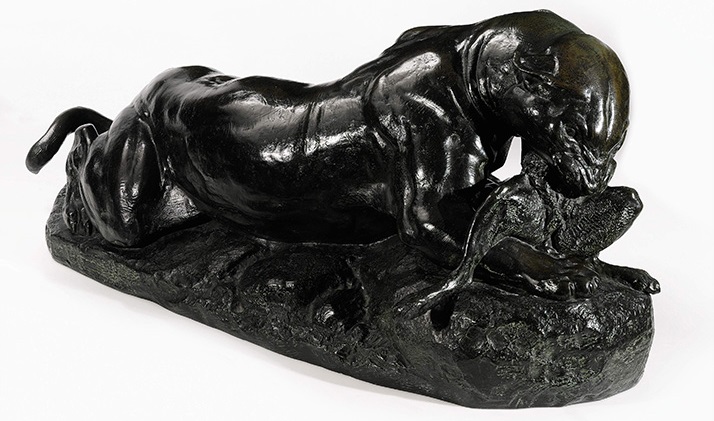 Antoine-Louis Barye
(French, 1795–1875)
Jaquar Devouring a Hare,
modeled
–
1850
Bronze, dark brown patina, 17 1/2 x 40 x 16 in.
Signed on left base edge:
A.L. BARYE.
Inscribed on base edge by tip of the tail:
F. BARBEDIENNE, Fondeur
, Underside incised number
11
2013.4
This work showing a powerfully elongated body of the jaguar with the limp body of its terrified prey, typifies Barye's Romantic images that made him one of the most popular animal sculptors of the 19th century. When he exhibited the bronze of Jaquar Devouring a Hare (Louvre) at the Paris Salon of 1851, critics raved. Edmond de Goncourt wrote that with this sculpture, "the school of historicism had died, given way to art that was both visible and palpable. Just as landscape replaced historical subjects in painting, animals are doing likewise in sculpture. Nature has succeeded man. It represents the evolution of modern  art." Later on, the French avant-garde artist Henri Matisse chose Bayre's sculpture as the model for his first sculpture  of the same title (1899–1901, Baltimore Museum of Art), which he had begun while taking sculpting courses at the École Communal de la Ville in Paris.
From 1893, the foundry Barbedienne, who was responsible for casting much of Bayre's work and making it available to a wider audience, produced bronze reproductions of these statues in three different sizes.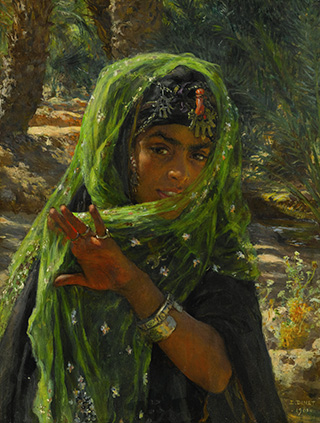 Alphonse-Étienne Dinet,
(French, 1861–1929)
Young Girl with a Veil,
1901
Oil on panel, 13 3/4 x 10 1/2 in.
Signed and dated lower right:
E. Dinet 1901
2013.3
Dinet's paintings and books provided a wealth of information on the traditions and customs of the people in Algeria, a country he made his home. After studying at the Académie Julien in Paris, he made the first of many trips to Algeria in 1884 before settling there in 1904, and converting to Islam in 1913. The American art critic Frederick Morton wrote of Dinet in the journal Brush and Pencil in 1904: "No other painter has evidenced such an intimate knowledge of the East; no one has caught and recorded with such fidelity the spirit of the Orient — people, topography, atmosphere, everything in his canvases is true to fact; no one has vitalized his pictures with the breath that is not of the Occident." Young Girl with a Veil, the second painting by Dinet to enter the Museum's collection, is an exquisite example of the artist's Algerian oeuvre. Here, a bejeweled young girl coyly holds her veil across her bronzed face from the sun revealing her gentle smile and beautiful playful eyes as she gazes at us. Dinet has used this young model in many other works, including The Krouta Game (1901, private collection).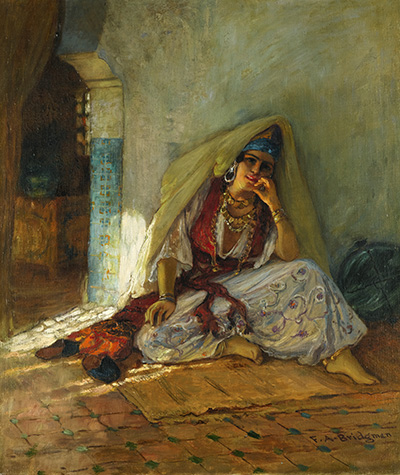 Frederick Arthur Bridgman 
(American, 1847–1928)
Pensive Moments
Oil on canvas, 22 x 18 1/2 in.
2013.2
Bridgman, a renowned late 19th-century American painter, chose to live in France and devote himself to Orientalist subjects — especially North African scenes of daily life. In Pensive Moments, he presents a favorite subject, a North African woman in exotic dress with gauze sleeves, a bodice over her shoulders, and a conical hat usually worn by the women of Tlemcen — a town in northwestern Algeria. Bridgman described the costume in his book Winters in Algiers (1888), commenting that it resembled Moroccan dress because the Algerian city was near the Moroccan border. This recent acquisition — the third oil painting by the artist to enter the Museum's collection — exemplifies Bridgman's later naturalistic style. During the 1880s a freer and more painterly style replaced the meticulously polished compositions influenced by his teacher Jean-Léon Gérôme — as in An Oriental Beauty (in the Museum collection). Bridgman infuses this composition with sunlight pouring through the doorway to illuminate the seated woman who appears to be lost in thought.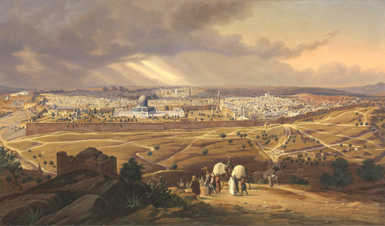 Hubert Sattler
(Austrian, 1817–1904)
View of Jerusalem from the Mount of Olives,
1847
Oil on panel, 14 1/4 x 24 1/2 in.
Signed twice and dated lower right:
H. Sattler/Hubert Sattler 1847
2012.17
The Mount of Olives provides travelers with a breathtaking view of Jerusalem, and many 19th-century artists produced views from this perspective. In his View of Jerusalem from the Mount of Olives, Sattler employs devices present in many panoramic views: a dark foreground distinctive from a bright background and staffage figures in the foreground to provide a sense of scale and human activity.The son of Johann Michael Sattler, famous for painting the Great Panoramic View of the City of Salzburg, Hubert Sattler decided at a young age to follow in his father's footsteps. He studied at the Vienna Academy of Art, and in 1829 embarked with his family on a ten-year tour of Europe. He first traveled to the Middle East in 1842, visiting Constantinople, Lebanon, and Jerusalem and making numerous studies of various locations along the way. Sattler painted a number of "cosmoramas" — works enhanced with lighting effects and viewed through peepholes to create a greater level of realism, which were particularly successful when Sattler brought them to America in 1850.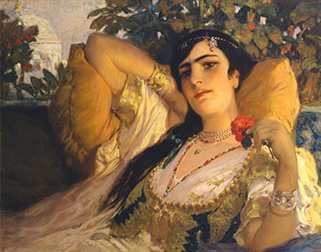 Frederick Arthur Bridgman,
(American, 1847–1928)
An Oriental Beauty
Oil on canvas, 26 x 32 in.
Signed lower left:
F. A. Bridgman
2012.16
The Museum has recently acquired a splendid example of Frederick Bridgman's North African scenes of domestic life, which he had the opportunity to explore and vividly describe in his book Winters in Algiers (1888). Bridgman's Oriental Beauty displays his familiarity with the Algerian women he saw and the outfits they wore, as he noted "the height of fashion is to wear everything of the same color, for instance yellow head kerchief bordered with gold and silk fringe, yellow ribbons to ornament the thin chemise, yellow silk bodice, pantaloons of the same color, and yellow leather slipper." Dressed in color-coordinated and fashionable dress, and adorned with opulent accessories, Bridgman's beauty languidly reclines in a state of reverie, while her hand gently holds a flower, suggesting she may be dreaming of a lover — an Orientalist trope that catered to 19th-century Western viewers' expectations.
Among the most famous American Orientalist painters, Bridgman first studied at the National Academy of Design in New York and in 1866 went to Paris where he studied with Jean-Léon Gérôme for four years. From 1872, he made numerous trips to North Africa and Egypt, and eventually settled in France. He exhibited Orientalist subjects regularly at the Paris Salons, the Royal Academy of London, and at private galleries that he rented in Chicago, New York, and Paris. Bridgman became Officer of the Legion of Honor in 1907.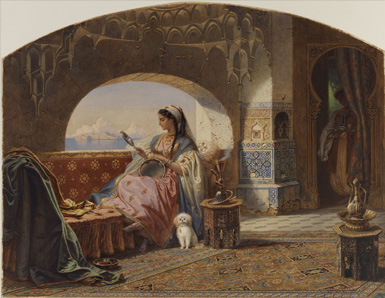 Carl Werner
(German, 1808–1894)
Beauty with a Tambourine,
1867
Watercolor, 19 1/2 x 24 1/2 in.
Signed & dated center left:
C. Werner f. 1867
2012.15
Beauty with a Tambourine is the first painting by Carl Werner to enter the Museum's extensive Orientalist collection. After studying with Julius Schnorr von Carolsfeld in his native Germany, Werner spent much of his career traveling extensively through England, Italy, Spain, Egypt, and Palestine. In the 1860s, he was given permission to paint inside Jerusalem's venerable Dome of the Rock, an honor granted to few non-Muslims. He exhibited frequently in London, especially at the New Water-Colour Society, and in 1875 he published Carl Werner's Nile Sketches after watercolors made onsite in Egypt. Although best known for detailed and light-suffused architectural and landscape views, Werner also produced some interiors, such as Beauty with a Tambourine, where he integrates the lounging woman into the overall decorative effect.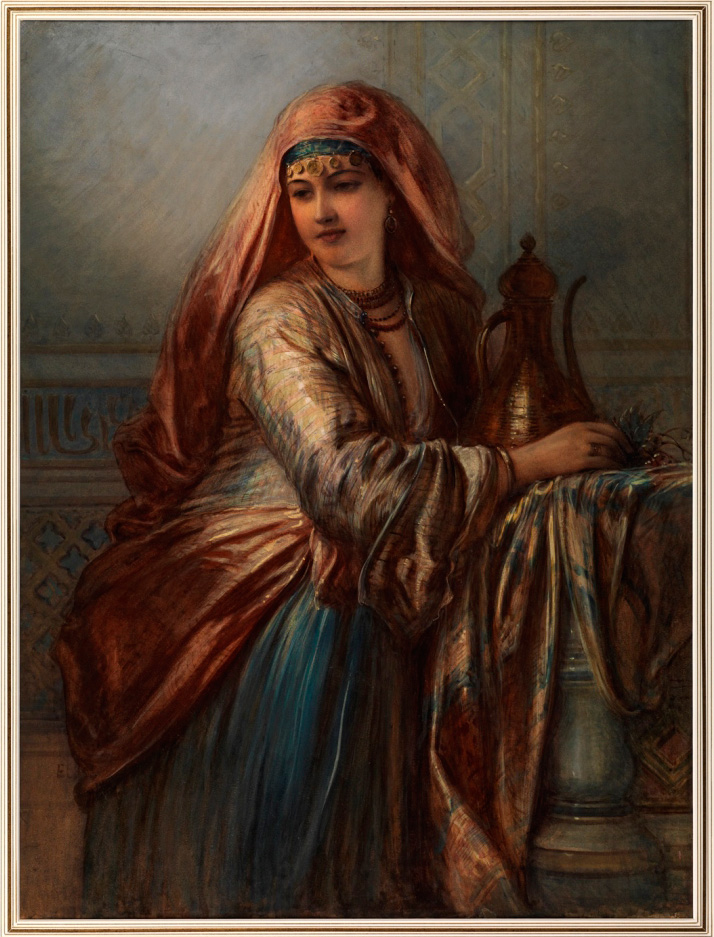 Egron Sillif Lundgren
(Swedish, 1815–1875)
Oriental Beauty with Coffee Pot
Watercolor and gouache, 28 3/4 x 22 in.
Signed lower left:
EL
2012.14
Lundgren's career was exceptionally international. He was born in Stockholm, trained as an artist in Paris in the studio of Léon Cogniet, and made his reputation in England.  In the 1840s and 50s, he traveled widely, visiting Italy, Spain, Egypt, and India. In 1849, he served under Giuseppe Garibaldi, a key member of the Italian unification movement il Risorgimento, in the siege of Rome. Later he accompanied Colin Campbell, 1st Baron Clyde, on his campaign to quell the Indian Rebellion of 1857. Lundgren settled in London in 1853 and became a member of the Society of Painters in Watercolor.
Watercolor seems to have been Lundgren's most valued medium, and he used his skill to create lush scenes like Oriental Beauty with Coffee Pot, the first work by this artist to enter the Dahesh Museum of Art collection.  The light that reflects off the rich fabrics and polished coffee pot shows off his skill in this medium. This genre of image, in which a young, beautiful woman is exotically garbed and situated, was very popular with 19th-century audiences, and Lundgren painted a number of these beauties, as well as portraits, landscapes, and genre scenes.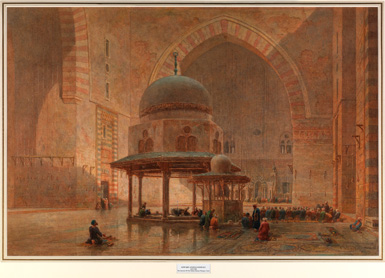 Edward Angelo Goodall
, (British, 1819–1908)
The Interior of Sultan Hassan Mosque, Cairo
Watercolor, 24 x 35 in.
2012.13
Born into a prominent family of English artists, Edward Angelo was the son of the engraver Edward Goodall, and the brother of Royal Academician painter Frederick Goodall, whose Egyptian Pilgrims Arriving at an Inn is in the Museum's collection. After studying with his father, Edward Angelo traveled widely throughout his career, accompanying a governmental expedition to British Guiana in the 1840s, documenting the Crimean War, and later visiting Gibraltar, Egypt, Morocco, and Italy. This recently acquired watercolor shows the courtyard of the massive Sultan Hassan Mosque (built in AD 1362), which is part of a splendid complex at the western edge of the citadel in Cairo. At the center of the courtyard is an ablutions fountain, behind which we see two of the four arched iwans (vaulted space with a large opening arch), which house madrasas (schools) for the four Sunni schools.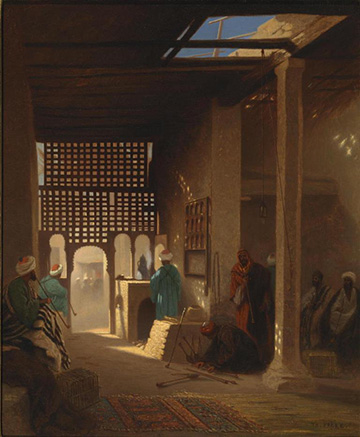 Charles-Théodore Frère
(French, 1814–1885)
Café in Cairo
Oil on canvas, 18 1/8 x 15 in.
Signed lower right:
TH. FRÉRE
2012.12
The Dahesh Museum of Art is pleased to announce the acquisition of its fifth work by Frère, one of the most popular and successful Orientalist artists in 19th-century France. He studied at the École des Beaux-Arts under Léon Cogniet and exhibited at the Salon throughout his career. Beginning in the 1830s, he made a number of visits to the Middle East, traveling through Algeria, Egypt, Turkey, Greece, and Malta. In 1853, Frère established a studio in Cairo, eventually receiving the title of Bey (Lord) from the Egyptian government, and in 1869, the French Empress Eugénie invited him to accompany her entourage to the opening of the Suez Canal.
The American art critic Clarence Cook wrote of Frère in his book Art and Artists of our Time in 1888, "it is likely enough that he was attracted by some pictures of Oriental scenery in the Salon that contained his picture; but, however that may have been, he says only that he was strongly drawn by the sun…." Indeed, Frère infuses many of his scenes with desert radiance. In Café in Cairo, the full effect of the sun, which Frère delighted in reproducing, is only apparent when looking through the doorway past men smoking long-stemmed pipes and sitting in a shaded space that is dappled with light filtered through latticework above the entrance.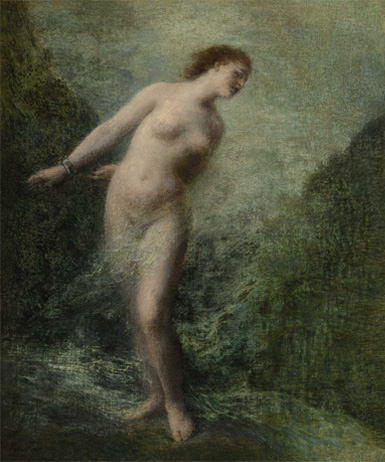 Henri Fantin-Latour
(French, 1836–1904)
Andromeda
Oil on canvas, 22 x 19 in.
Signed lower left:
Fantin
2012.11
Perhaps best known for his portraits and flower paintings, Fantin-Latour also composed many allegorical or mythological subjects. Often inspired by the work of composers like Richard Wagner, Hector Berlioz, or Robert Schumann, their light color palette and loose brushwork gives them an effect often described as "dream-like." The subject of this recent acquisition — the second work by Fantin-Latour to enter the Museum collection — comes from the famous Greek myth recounted by Sophocles and Euripides. Andromeda, the Ethiopian king's beautiful daughter, is stripped naked and chained to a rock as a sacrifice to a sea monster but is ultimately saved by the hero Perseus, who later married her. The story of Andromeda and Perseus was popular in European painting for centuries, providing artists the opportunity to explore the female nude, as in, for example, the Museum's Andromeda Chained to a Rock by Henry-Louis Picou — a dynamic composition showing the moment when Perseus confronts the monster and rescues Andromeda. Here, Andromeda appears chained, her graceful body contrasting with the anguish in her face, but the indistinct setting offers no glimpse of the approaching monster or miraculous approach of Perseus.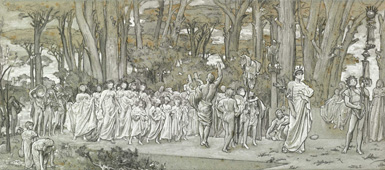 Frederic, Lord Leighton, P.R.A.
(British, 1830–1896)
Study for
Daphnephoria,
before 1876
Charcoal and pencil heightened with white wash on blue paper, 7 3/8 by 17 3/4 in.
2012.10
The Daphnephoria took place every nine years in the ancient Greek city of Thebes, commemorating the Thebans victory over the Aeolians. The event honored the god Apollo, whose floral symbol was the laurel (daphne in Greek), and was centered around a procession led by the Daphnephorus (laurel-bearer), a young boy dressed as Apollo. Leighton's representation of the festival was one of four major frieze-like compositions — two of which are represented in the Museum's collection by oil studies for The Syracusan Bride and Captive Andromache. Leighton, president of Royal Academy of Arts for nearly two decades, was a major proponent of classicism in contemporary art. He closely studied works from ancient Greece and likely derived the processional style mode from sculpted friezes like the Panathenaic procession from the Parthenon, which he could see at the British Museum. In this charcoal, chalk, and pencil study, Leighton gives the figures a highly sculptural quality. Folds of drapery and figural musculature are emphasized, an aspect of the work that is somewhat diminished in the final painting (Lady Lever Art Gallery, Liverpool, UK).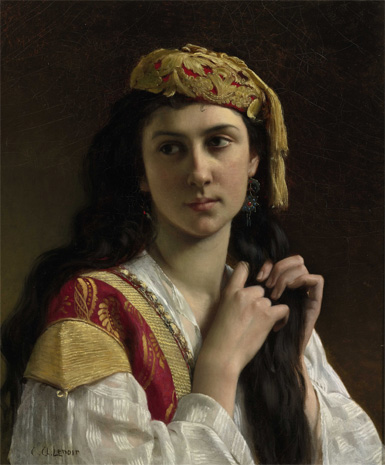 Charles Amable Lenoir
(French, 1861–1961)
Day Dreams
Oil on canvas, 22 x 18 1/2 in.
Signed lower left:
C.A. Lenoir
2012.9
A favored student of William Bouguereau, Charles Amable Lenoir followed the example of his master by painting numerous pictures of beautiful young women. These images, which flourished from the middle of the 19th century, could be either portraits or representations of ideal types, shown in urban or rustic settings. Recently acquired, Day Dreams is one of several paintings by Lenoir of young women in oriental costume, although it is not known if he actually traveled to the Middle East. A regular exhibitor at the Paris Salon from 1887 until 1926, Lenoir won medals in 1892, 1896, and 1890, and was made Knight of the Legion of Honor in 1903.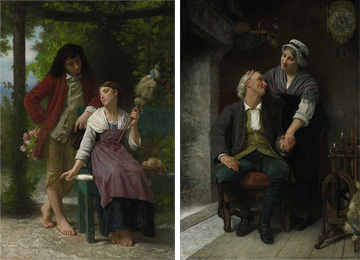 Elizabeth Jane Gardner Bouguereau
(American, 1837–1922)
Before the Engagement
Oil on canvas, 45 x 31 1/4 in.
Signed lower left:
Elizabeth Gardner
2012.7
After the Engagement
Oil on canvas, 45 x 31 1/8 in.
Signed lower left: Elizabeth Gardner
2012.8
Often overshadowed by her renowned husband William-Adolphe Bouguereau, Elizabeth Jane Gardner Bouguereau was talented and successful in her own right, as is evident in this pair of paintings. Commissioned by American business man Obed J. Wilson, the paintings are based on a poem by the Scottish writer Robert Burns. Before the Engagement depicts two modest youths at the age of betrothal in an idyllic, outdoor setting. In its pendant, After the Engagement, years have passed, and the humble, dim interior is nevertheless radiant with their mature tenderness and affection.
Gardner moved to Paris from New Hampshire in 1864, studying with Hugues Merles, Jules-Joseph Lefebvre, and Bouguereau. She exhibited at the official Salon from 1868 until 1914, and was the first and only American woman painter to win a medal. Gardner first mentioned the Engagement commission in December 1880 in a letter to her brother. The topic was timely —Bouguereau and Gardner had become engaged the year earlier. Writing to her sister in 1882, Gardner noted of the paintings, "They are the best I have done, only unfortunately I have bestowed two months longer on the work than I intended. Everybody likes them…" The paintings remained together as part of the Wilson collection at the Twin Towers Senior Living Facility in Cincinnati before being purchased by the Dahesh Museum of Art.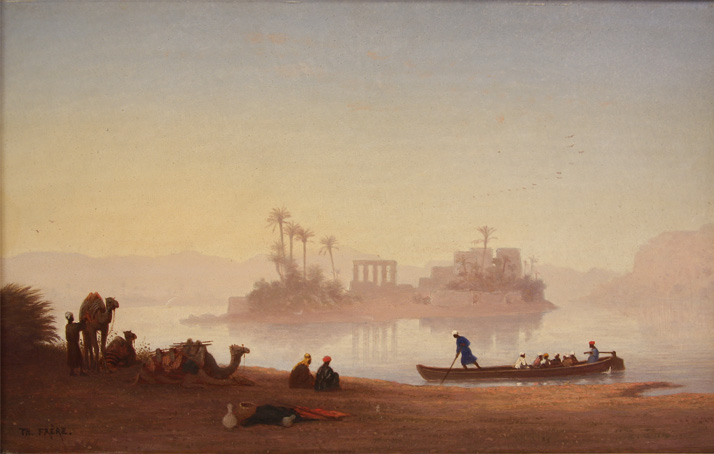 Charles-Théodore Frère
(French, 1814–1885)
Philae Temple, Nile River, Egypt
Oil on panel, 7 1/2 x 11 7/8 in.
Signed lower left:
TH. FRÈRE
2012.6
The Dahesh Museum of Art is pleased to announce the acquisition of its fourth work by Frère, one of the earliest and most popular French Orientalist artists of the 19th century. Here Frère depicts Philae in Egypt, a popular Orientalist subject that is also represented in the Museum's collection by Hermann- Salomon Corrodi (Campfire by the River: Kiosk of Trajan at Philae), and Frederick Bridgman (Cleopatra on the Terraces of Philae, 1896).
For this work, Frère has chosen a distant view of the island of Philae providing the viewer with the temple of Isis, and to its left the Kiosk of Trajan ("Pharaoh's Bed"), which was particularly appealing to Orientalists. The construction of the Aswan High Dam (1960–1970) would have submerged the island, and during the 1970's, the ensemble of temples were moved to the nearby island of Agilkia, near Aswan, a tourist destination that continues to inspire marvel to this day.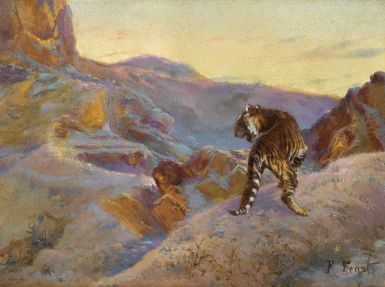 Rudolf Ernst 
(Austrian, 1854–1932)

Tiger in the Mountains
Oil on panel, 91/4 by 13 in.
Signed lower right:
 R. Ernst
2012.5
This superb image of a tiger in a dramatic setting is the fourth painting by Ernst, one of the most successful Orientalist artists of the 19th century, to enter the Museum collection. Famous for his exquisite images of daily life in the Middle East, Ernst also produced striking images of tigers at rest, being hunted, as a pasha's pet, or on the prowl as in Tiger in the Mountains, where a magnificent tiger stands on a mountain ridge observing an obscured object or prey. It is quite different from his more detailed and vividly rendered compositions that juxtapose multiple figures, architecture, and decorative motifs. Here, Ernst's looser brush strokes reveal a sole animal in a vast mountainous terrain with a subdued color palette of violet, blue, and ocher that evokes the first rays of morning light.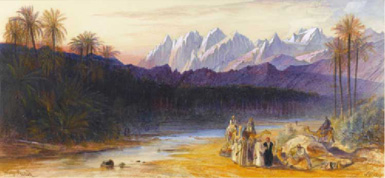 Edward Lear
 (British, 1812–1888)
An Arab Encampment at Wady Feiran, 
1869
Watercolor over pencil heightened with bodycolor and gum arabic on paper, 7 x
14 1/2 in.
Signed with monogram and dated lower right:
 1869.
 Inscribed lower left:
 Wady
Feiran
2012.4
Edward Lear's splendid watercolor depicts an oasis in Sinai, Egypt, that the
artist described as the most wonderful and beautiful place he ever saw. Wady Feiran, Sinai's largest oasis, called the "Pearl of Sinai" for its spectacular views — surrounded by palm trees and mountains, with a running stream in the center — is also renowned for its biblical history. Supposedly, it was there that Moses struck a rock with his staff and created a spring to provide water for his people. This recent acquisition brings the name of this English artist-traveler into the Museum's collection for the first time.
Best remembered today as the author of nonsense verse and limericks, Lear was a prolific landscape painter, illustrator, and an avid traveler. He visited Egypt three times between 1849 and 1866, Palestine and Lebanon in 1858, and India and Ceylon in 1873, producing numerous topographical views, which he finished with pen and wash upon his return in his studio.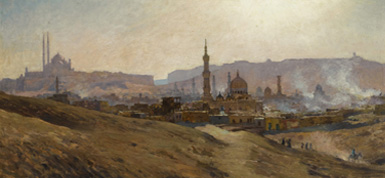 Alphonse-Étienne Dinet
(French, 1861–1929)
Cairo: Haze, Dust and Evening
Smoke
(Le Caire, brumes, poussières et fumées du Soir)
1899
Oil on board, 14 1/2 x 29 1/2 in.
Signed lower left:
E DINET
2012.3
This newly acquired work is one of two panoramic views of Old Cairo, one in the morning and the other in the evening by Étiénne Dinet after his trip to Egypt in 1897. The evening painting, which now enters the Dahesh Museum of Art collection — with its mirage-like view, haze, and rising smoke that dissolves the details of the citadel and numerous minarets across the skyline — recalls the work of Claude Monet. Le Caire is distinctly different from Dinet's well-known Orientalist luminous scenes of daily life, which relate more closely to Naturalism. Like the Impressionists, many Naturalist painters including Dinet were interested in plein-air painting and the effects of light, but executed their work in a more academic manner with attention to detail and a meticulous finish.
A pupil of Tony Robert-Fleury and William Bouguereau, Dinet became a devoted Orientalist after his first voyage to Algeria in 1884. Captivated by the country, he returned many times, learned the Arabic language, converted to Islam, and in 1904 settled in the town of Bou Saâda in the south of Algeria, where he continued to express the essence of life and emotions of its people.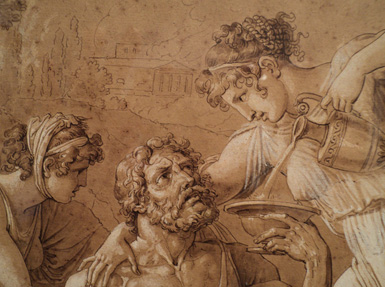 Giuseppe Cammarano
 (Italian, 1766–1850)
Lot and His Daughters,
(detail) 1821
Pen and brown ink, brown wash, heightened with white; framing lines in pen and brown ink, 12 11/16 x 16 9/16 in.
Signed and dated in pen and brown ink lower left:
Giuseppe Cammarano
1821
2012.2
Giuseppe Cammarano's highly finished drawing is an impressive Neoclassical interpretation of the well-known subject of Lot and his Daughters described in Genesis 19:30-36. After fleeing the burning city of Sodom and taking refuge in the mountains, Lot's daughters believed they must become pregnant from their father to perpetuate the human race. They got their father drunk, mated with him, and each bore him a son, Moab and Ammon. The subject has been popular since the Renaissance, and was treated by such masters as Orazio Gentileschi in the 17th century (The J. Paul Getty Museum). Here, Cammarano emphasizes the seduction scene by placing the protagonists in the foreground, with one daughter pouring wine for her father, and the other touching his body. The artist deftly uses white highlights to illuminate the figures and direct the viewer's gaze within the scene.
The son of an actor, Cammarano was an esteemed painter in Italy in the first half of the 19th century, especially popular for his portraits of the aristocracy, decorations of many palace interiors, and the ceiling painting in the San Carlo Opera House in Naples.