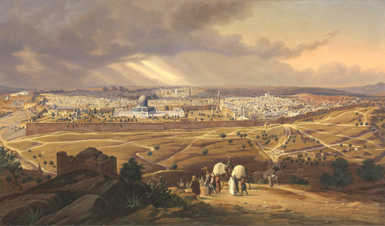 Hubert Sattler(Austrian, 1817-1904)
View of Jerusalem from the Mount of Olives,1847
Oil on panel, 14 1/4 x 24 1/2 in.
Signed twice and dated lower right: H. Sattler/Hubert Sattler 1847
2012.17
The Mount of Olives provides travelers with a breathtaking view of Jerusalem, and many 19th-century artists produced views from this perspective. In his View of Jerusalem from the Mount of Olives, Sattler employs devices present in many panoramic views: a dark foreground distinctive from a bright background and staffage figures in the foreground to provide a sense of scale and human activity.The son of Johann Michael Sattler, famous for painting the Great Panoramic View of the City of Salzburg, Hubert Sattler decided at a young age to follow in his father's footsteps. He studied at the Vienna Academy of Art, and in 1829 embarked with his family on a ten-year tour of Europe. He first traveled to the Middle East in 1842, visiting Constantinople, Lebanon, and Jerusalem and making numerous studies of various locations along the way. Sattler painted a number of "cosmoramas" — works enhanced with lighting effects and viewed through peepholes to create a greater level of realism, which were particularly successful when Sattler brought them to America in 1850.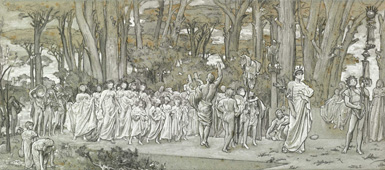 Frederic, Lord Leighton, P.R.A.,(British, 1830-1896)
Study for Daphnephoria,, before 1876
Charcoal and pencil heightened with white wash on blue paper, 7 3/8 by 17 3/4 in.
2012.10The Daphnephoria took place every nine years in the ancient Greek city of Thebes, commemorating the Thebans victory over the Aeolians. The event honored the god Apollo, whose floral symbol was the laurel (daphne in Greek), and was centered around a procession led by the Daphnephorus (laurel-bearer), a young boy dressed as Apollo. Leighton's representation of the festival was one of four major frieze-like compositions — two of which are represented in the Museum's collection by oil studies for The Syracusan Bride and Captive Andromache. Leighton, president of Royal Academy of Arts for nearly two decades, was a major proponent of classicism in contemporary art. He closely studied works from ancient Greece and likely derived the processional style mode from sculpted friezes like the Panathenaic procession from the Parthenon, which he could see at the British Museum. In this charcoal, chalk, and pencil study, Leighton gives the figures a highly sculptural quality. Folds of drapery and figural musculature are emphasized, an aspect of the work that is somewhat diminished in the final painting (Lady Lever Art Gallery, Liverpool, UK).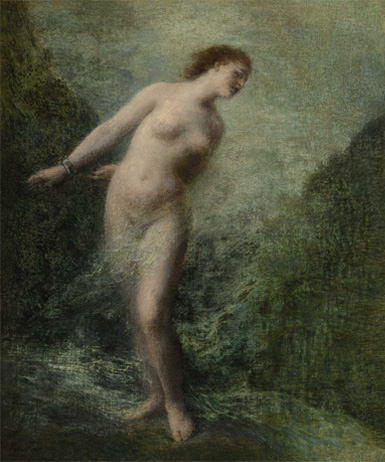 Henri Fantin-Latour,(French, 1836-1904)
Andromeda,
Oil on canvas, 22 x 19 in.
Signed lower left: Fantin
2012.11Perhaps best known for his portraits and flower paintings, Fantin-Latour also composed many allegorical or mythological subjects. Often inspired by the work of composers like Richard Wagner, Hector Berlioz, or Robert Schumann, their light color palette and loose brushwork gives them an effect often described as "dream-like." The subject of this recent acquisition — the second work by Fantin-Latour to enter the Museum collection — comes from the famous Greek myth recounted by Sophocles and Euripides. Andromeda, the Ethiopian king's beautiful daughter, is stripped naked and chained to a rock as a sacrifice to a sea monster but is ultimately saved by the hero Perseus, who later married her. The story of Andromeda and Perseus was popular in European painting for centuries, providing artists the opportunity to explore the female nude, as in, for example, the Museum's Andromeda Chained to a Rock by Henry-Louis Picou — a dynamic composition showing the moment when Perseus confronts the monster and rescues Andromeda. Here, Andromeda appears chained, her graceful body contrasting with the anguish in her face, but the indistinct setting offers no glimpse of the approaching monster or miraculous approach of Perseus.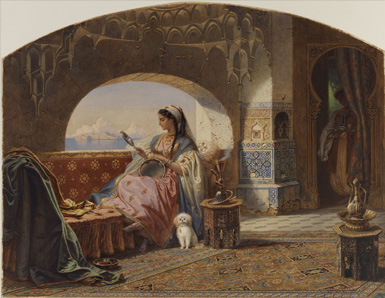 Carl Werner, (German, 1808-1894)
Beauty with a Tambourine, 1867
Watercolor, 191/2 x 24 1/2 in.
Signed & dated center left: C. Werner f. 1867
2012.15Beauty with a Tambourine is the first painting by Carl Werner to enter the Museum's extensive Orientalist collection. After studying with Julius Schnorr von Carolsfeld in his native Germany, Werner spent much of his career traveling extensively through England, Italy, Spain, Egypt, and Palestine. In the 1860s, he was given permission to paint inside Jerusalem's venerable Dome of the Rock, an honor granted to few non-Muslims. He exhibited frequently in London, especially at the New Water-Colour Society, and in 1875 he published Carl Werner's Nile Sketches after watercolors made onsite in Egypt. Although best known for detailed and light-suffused architectural and landscape views, Werner also produced some interiors, such as Beauty with a Tambourine, where he integrates the lounging woman into the overall decorative effect.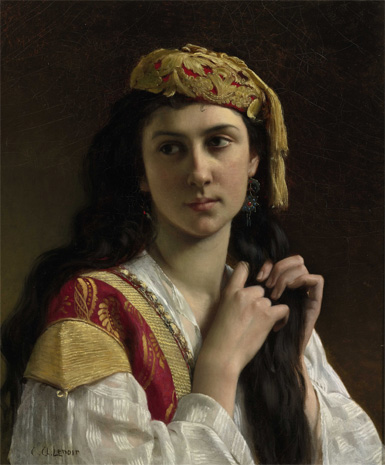 Charles Amable Lenoir, (French, 1861-1961)
Day Dreams
Oil on canvas, 22 x 18 1/2 in.
Signed lower left: C.A. Lenoir
2012.9A favored student of William Bouguereau, Charles Amable Lenoir followed the example of his master by painting numerous pictures of beautiful young women. These images, which flourished from the middle of the 19th century, could be either portraits or representations of ideal types, shown in urban or rustic settings. Recently acquired, Day Dreams is one of several paintings by Lenoir of young women in oriental costume, although it is not known if he actually traveled to the Middle East. A regular exhibitor at the Paris Salon from 1887 until 1926, Lenoir won medals in 1892, 1896, and 1890, and was made Knight of the Legion of Honor in 1903.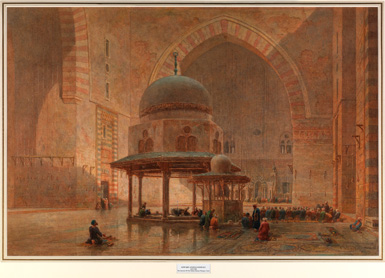 Edward Angelo Goodall, (British, 1819-1908)
The Interior of Sultan Hassan Mosque, Cairo
Watercolor, 24 x 35 in.
2012.13Born into a prominent family of English artists, Edward Angelo was the son of the engraver Edward Goodall, and the brother of Royal Academician painter Frederick Goodall, whose Egyptian Pilgrims Arriving at an Inn is in the Museum's collection. After studying with his father, Edward Angelo traveled widely throughout his career, accompanying a governmental expedition to British Guiana in the 1840s, documenting the Crimean War, and later visiting Gibraltar, Egypt, Morocco, and Italy. This recently acquired watercolor shows the courtyard of the massive Sultan Hassan Mosque (built in AD 1362), which is part of a splendid complex at the western edge of the citadel in Cairo. At the center of the courtyard is an ablutions fountain, behind which we see two of the four arched iwans (vaulted space with a large opening arch), which house madrasas (schools) for the four Sunni schools o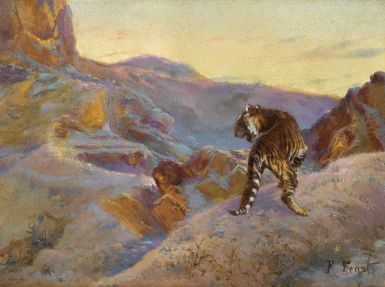 Rudolf Ernst (Austrian, 1854-1932)
Tiger in the Mountains
Oil on panel, 91/4 by 13 in.
Signed lower right: R. Ernst
2012.5This superb image of a tiger in a dramatic setting is the fourth painting by Ernst, one of the most successful Orientalist artists of the 19th century, to enter the Museum collection. Famous for his exquisite images of daily life in the Middle East, Ernst also produced striking images of tigers at rest, being hunted, as a pasha's pet, or on the prowl as in Tiger in the Mountains, where a magnificent tiger stands on a mountain ridge observing an obscured object or prey. It is quite different from his more detailed and vividly rendered compositions that juxtapose multiple figures, architecture, and decorative motifs. Here, Ernst's looser brush strokes reveal a sole animal in a vast mountainous terrain with a subdued color palette of violet, blue, and ocher that evokes the first rays of morning light.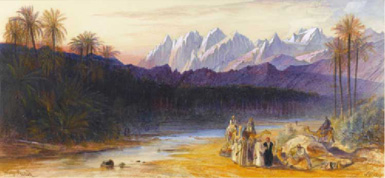 Edward Lear (British, 1812-1888)
An Arab Encampment at Wady Feiran, 1869
Watercolor over pencil heightened with bodycolor and gum arabic on paper, 7 x
14 1/2 in.
Signed with monogram and dated lower right: 1869. Inscribed lower left: Wady
Feiran
2012.4Edward Lear's splendid watercolor depicts an oasis in Sinai, Egypt, that the
artist described as the most wonderful and beautiful place he ever saw. Wady Feiran, Sinai's largest oasis, called the "Pearl of Sinai" for its spectacular views — surrounded by palm trees and mountains, with a running stream in the center — is also renowned for its biblical history. Supposedly, it was there that Moses struck a rock with his staff and created a spring to provide water for his people. This recent acquisition brings the name of this English artist-traveler into the Museum's collection for the first time.
Best remembered today as the author of nonsense verse and limericks, Lear was a prolific landscape painter, illustrator, and an avid traveler. He visited Egypt three times between 1849 and 1866, Palestine and Lebanon in 1858, and India and Ceylon in 1873, producing numerous topographical views, which he finished with pen and wash upon his return in his studio.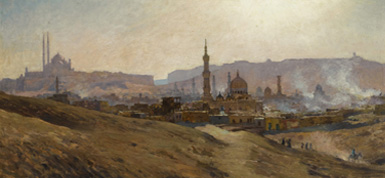 Alphonse-Étiénne Dinet (French, 1861-1929)
Le Caire, Brumes, Poussières et Fumées du Soir
(Cairo: Haze, Dust and Evening Smoke), 1899
Oil on board, 14 1/2 x 29 1/2 in.
Signed lower left: E DINET
2012.3This newly acquired work is one of two panoramic views of Old Cairo, one in the morning and the other in the evening by Étiénne Dinet after his trip to Egypt in 1897. The evening painting, which now enters the Dahesh Museum of Art collection — with its mirage-like view, haze, and rising smoke that dissolves the details of the citadel and numerous minarets across the skyline — recalls the work of Claude Monet. Le Caire is distinctly different from Dinet's well-known Orientalist luminous scenes of daily life, which relate more closely to Naturalism. Like the Impressionists, many Naturalist painters including Dinet were interested in plein-air painting and the effects of light, but executed their work in a more academic manner with attention to detail and a meticulous finish.
A pupil of Tony Robert-Fleury and William Bouguereau, Dinet became a devoted Orientalist after his first voyage to Algeria in 1884. Captivated by the country, he returned many times, learned the Arabic language, converted to Islam, and in 1904 settled in the town of Bou Saâda in the south of Algeria, where he continued to express the essence of life and emotions of its people.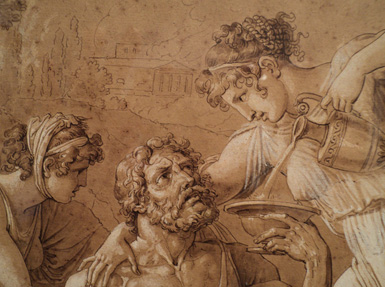 Giuseppe Cammarano (Italian, 1766-1850)
Lot and His Daughters, (detail) 1821
Pen and brown ink, brown wash, heightened with white; framing lines in pen and brown ink, 12 11/16 x 16 9/16 in.
Signed and dated in pen and brown ink lower left: Giuseppe Cammarano 1821
2012.2Giuseppe Cammarano's highly finished drawing is an impressive Neoclassical interpretation of the well-known subject of Lot and his Daughters described in Genesis 19:30-36. After fleeing the burning city of Sodom and taking refuge in the mountains, Lot's daughters believed they must become pregnant from their father to perpetuate the human race. They got their father drunk, mated with him, and each bore him a son, Moab and Ammon. The subject has been popular since the Renaissance, and was treated by such masters as Orazio Gentileschi in the 17th century (The J. Paul Getty Museum). Here, Cammarano emphasizes the seduction scene by placing the protagonists in the foreground, with one daughter pouring wine for her father, and the other touching his body. The artist deftly uses white highlights to illuminate the figures and direct the viewer's gaze within the scene.
The son of an actor, Cammarano was an esteemed painter in Italy in the first half of the 19th century, especially popular for his portraits of the aristocracy, decorations of many palace interiors, and the ceiling painting in the San Carlo Opera House in Naples.