February 2018
Dahesh Museum Lends to Gaugengigl exhibition in Palm Beach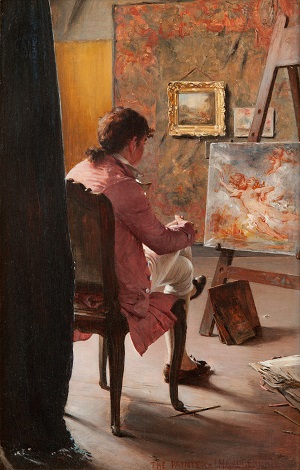 One of the most charming paintings in the Museum's collection travels to Palm Beach to the Flagler Museum of Art to be part of the first retrospective devoted to the popular Boston painter and etcher Ignaz Marcel Gaugengigl (1855–1931).

Masterfully Human: The Art of Gaugengigl, from January 23 to April 29, 2018, surveys the work of the Bavarian-born artist whose small-scale historical genre subjects and portraits were favorites of the Boston elite.
Salon Thursdays: March 1
Shakespeare and Art: Images of the Author and his Plays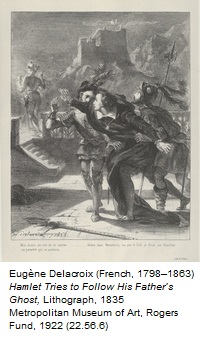 In 2016, the four-hundredth anniversary of Shakespeare's death inspired Constance McPhee, curator in the Department of Drawings and Prints at the Metropolitan Museum of Art, to delve into the collections and explore how artists responded to the Bard across time. She discovered over 300 works—prints, drawings, paintings and sculptures—inspired by the plays and their author. Using this trove, she will discuss how European and American artists responded to Shakespeare between the 18th and early 20th centuries. The imagery reveals a rich evolving dialogue between visual and literary sources, sheds light on stage history, and affirms Western culture's enduring fascination with the author (whose image remains surprisingly hard to pin down).

Interested attendees can explore works on the Met's website by typing "Shakespeare" into the Collection search box. 
The event will be held at the Museum Gift Shop, 145 Sixth Avenue, on March 1, at 6:30 pm. Seating starts at 6:00 pm on a first-come, first-served basis. Admission is free.
Behind the Scenes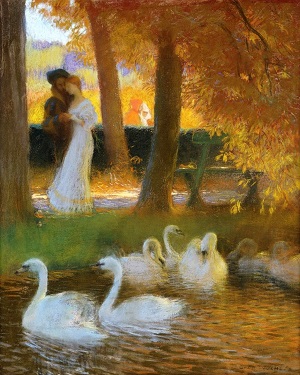 Many famous 19th-century artists celebrated the theme of love.  Gaston La Touche (1845–1913), an important representative of France's Belle Époque, achieved immense success with his 18th-century romantic encounters in beautiful parks. His Lovers and the Swans (1896), an evocative scene of a young couple strolling past swans on an autumn day, exudes romance, as the man leans in to speak to his paramour. The swans are enduring symbols of love because they mate for life.

La Touche had an informal education—as a child he briefly trained with a Monsieur Paul in Saint-Cloud, and as a young man he profited from the tutelage of Manet and Félix Bracquemond. He subsequently won numerous awards, including a silver medal at the Exposition Universelle of 1889, a gold one in 1900, the same year he gained the Legion of Honor, gold medals in Venice (1903) and Pittsburgh (1907), and earned important commissions to paint for the Palais de l'Élysée and for the Salon Ovale of the Ministry of Agriculture. He was tremendously popular in France and in America as well. The New York Times remembered him in 1913 as "that celebrated painter of dreams, fantasies, and decorations."  
Connect with us