René Lelong (French, 1871–1933)
Sarah Bernhardt Conversing with William Gladstone at Her London Exhibition of 1879
Oil on canvas, laid on board, 19 3/16 x 14 in.
Signed lower left: R. Lelong
2002.25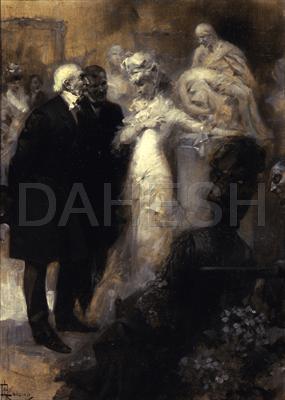 The painter and illustrator René Lelong depicts Sarah Bernhardt (1844–1923) standing near her sculpture After the Storm (location unknown), while talking to the British Prime Minister William Gladstone (1809–1898). Born Henriette Rosine Bernard, Bernhardt made her stage debut in 1862 and became one of the 19th century's most famous actresses. By 1869 she had begun painting and sculpting, and grew close to such artists as Alfred Stevens (1817–1876), Gustave Doré (1832–1883), and Georges Clairin (1843–1919). At the Paris Salon of 1876, she received an honorable mention forAfter the Storm, which depicts a Breton woman holding the body of her drowned son. In 1878, she sold the casting rights for this work to the influential London dealer Ernest Gambart, and one year later her paintings and sculptures appeared in the London exhibition seen here. This grisaille painting may well have served as the basis for an illustration in a popular journal discussing her show.