Maurice Leloir (French, 1853–1940)
Manon Lescaut, 1892
Oil on canvas, 41 9/16 x 63 3/8 in.
Signed and dated lower right: Maurice Leloir 1892
2001.12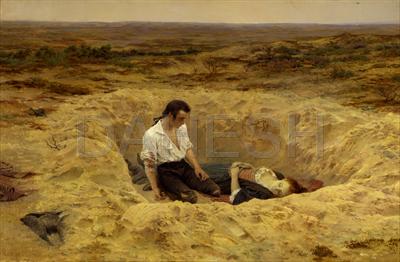 This painting is based on the penultimate scene from the Histoire du Chevalier des Grieux et de Manon Lescaut, the 1731 novel by the Abbé Prévost. Set in early 18th-century Paris and Louisiana, it tells the tragic story of the nobleman des Grieux and his worldly, unfaithful mistress Manon. In 1884, Jules Massenet's opera Manon premiered in Paris. Its success probably led Leloir, who designed theater posters for Massenet's operas, to illustrate a new edition of the novel published the following year, and contains a drawing with a similar composition as seen in this painting. After Leloir presented this oil version of Manon Lescaut at the 1892 Paris Salon, it was also exhibited at the Chicago World's Columbian Exposition of 1893, the same year that Puccini's opera Manon Lescaut premiered in Turin. Leloir's scene, found in the Puccini opera but not Massenet's, depicts the Chevalier des Grieux with his dead lover Manon in the wilderness of Louisiana.
Leloir crossed the Atlantic for the first time in 1928 at the invitation of the silent screen star Douglas Fairbanks to serve as artistic advisor on the film The Iron Mask, starring Fairbanks himself and based on the final novel in Alexandre Dumas's Les mousquetaires trilogy (1844–1850).