Adolf Schreyer (German, 1828–1899)
Arab Warriors on Horseback
Oil on canvas, 34 1/4 x 47 in.
Signed lower right: Ad Schreyer
1995.9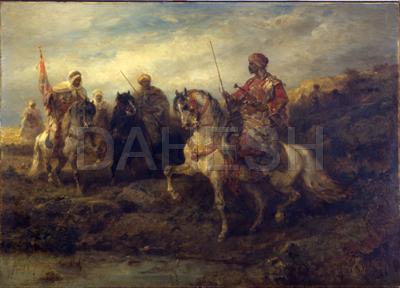 Trained in Frankfurt and Düsseldorf, Schreyer moved to Vienna in 1849 and followed the Crimean War (1854–56) as an official war artist before traveling to North Africa. In 1862, he moved to Paris, where he successfully exhibited at the Salon, and lived there until the outbreak of the Franco-Prussian War in 1870.
During his travels, Schreyer learned Arabic and immersed himself in Bedouin life. He specialized in portraying horsemen, and his works typify the European view of Bedouin warriors as brave and noble, but also fierce. Praised for his bold conception and powerful colors, Schreyer was favorably compared to Eugène Delacroix (1798–1863) and Eugène Fromentin (1820–1876).