Aimé-Nicolas Morot (French, 1850–1915)
Portrait of Jean-Léon Gérôme, 1904
Bronze, 12 x 7 x 8 3/4 in.
Signed on base right: Aimé Morot 1904. Inscribed on base front: J. L. GEROME. 1824 – 1904
1995.105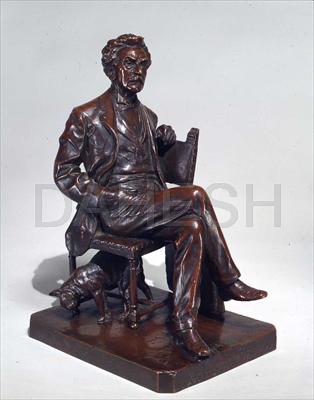 Morot, Gérôme's son-in-law and a successful academic painter and sculptor in his own right, cast this bronze memorial portrait in 1904, the year of the older artist's death (Gérôme was born in 1824). In 1911 he produced another bronze portrait of his father-in-law, a standing figure that he attached to Gérôme's 1878 bronze sculpture The Gladiators, which imitated the composition of a well-known painting by the master. Here the dapper Gérôme sits sideways in his chair, a relaxed yet commanding figure, his drawing portfolios leaning beside him.