Alexandre Cabanel (French, 1823–1889)
Study for The Death of Moses, ca. 1851
Graphite, pen and brown ink, gray wash, heightened with white gouache, squared for transfer on paper, 7 7/8 x 11 in.
Signed lower right: A. Cabanel
1998.11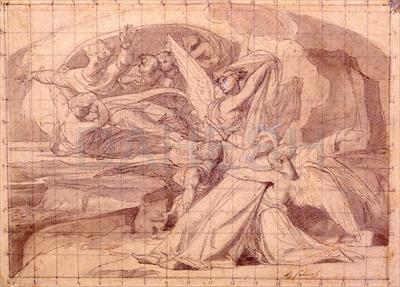 This detailed and squared drawing differs from the finished painting in several areas, notably the arms and head of God and the poses of the angels on Moses's right. Since a final scale drawing is usually identical to the completed painting, this represents only a preliminary study that Cabanel later modified. The drawing's curved top line suggests that Cabanel originally contemplated an arched frame for the painting.