Alexandre Cabanel (French, 1823–1889)
Adolphe Jourdan (French, 1825–1889)
The Birth of Venus, ca. 1864
Oil on canvas, 33 1/2 x 53 1/2 in.
Signed lower left: Alex. Cabanel
2002.37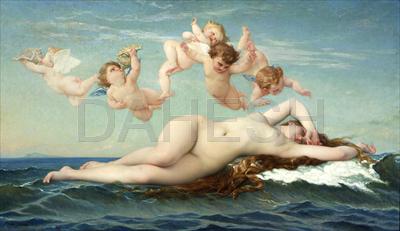 This icon of 19th-century French academic painting is one of two known, signed, reduced replicas of the celebrated picture that Cabanel exhibited at the Paris Salon in 1863. The original version, now in the Musée d'Orsay, Paris, was purchased for the Imperial collection by Empress Eugénie, wife of Napoleon III. Cabanel quickly sold the reproduction rights for his image to the art dealer and publisher Adolphe Goupil, who commissioned one of his in-house copyists, Adolphe Jourdan, to paint a reduced replica that would serve as a model for the production of an engraving. That reduced replica—the present picture—became the most famous version of the original painting, frequently mentioned and reproduced in 19th-century books and journals, and always attributed to Cabanel himself.
Often, the original artist oversaw the creation of such replicas and provided the copyist with his own preparatory sketches. The production of painted replicas was a highly lucrative venture for Goupil: not only did they provide the basis for creating prints, he could also sell the painted replicas themselves. Replicas were rewarding for the original artist as well, since Goupil's firm could sell his famed image repeatedly, in varying sizes, and he would receive a royalty for each sale. While such pictures were usually identified as copies, and priced accordingly, Goupil sold Jourdan's replica of The Birth of Venus as a Cabanel in 1870 for the considerable sum of 20,000 francs. Cabanel received half of the profits for retouching and signing the replica, fulfilling his part of an agreement he made with Goupil in 1864.
American dealer and auctioneer Henry W. Derby purchased the picture, and he sold it in turn to the wealthy Philadelphia collector Henry C. Gibson. It remained in Gibson's collection until it entered the Pennsylvania Academy of the Fine Arts in 1896, as part of Gibson's bequest to that Philadelphia institution. A second replica of the picture, dated to 1874 and formerly owned by New York collector John Wolfe, hangs in the Metropolitan Museum of Art.