Alexandre Cabanel (French, 1823–1889)
The Death of Moses, 1851
Oil on canvas, 110 x 154 in.
Signed, inscribed and dated lower right: ALEXdre CABANEL ROME 1851
1997.1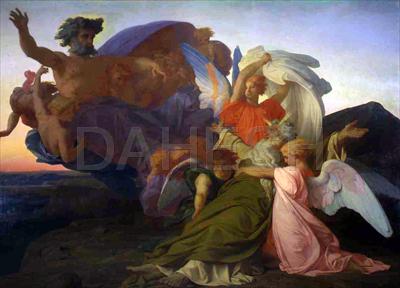 After winning the Prix de Rome in 1845, Cabanel spent five productive years in Italy, working as apensionnaire at the Villa Medici, the seat of the French Academy in Rome. The present picture, completed in 1851, was his dernier envoi, the final work he sent back to Paris as proof of his artistic accomplishments. His subject—Moses dying before God while seeing from afar the Promised Land that he would never reach—was rather intimidating for the young artist, as he recounted in a letter to his brother: "I have imposed upon myself a large, very difficult, formidable task, since I seek to represent the image of the Eternal Master of the sky and the earth—to represent God—and next to Him, one of His most sublime creatures, deified in some way by His contact." For inspiration, Cabanel turned to the Renaissance artists whose works surrounded him in Rome, especially Michelangelo. The billowing drapery and musculature of Cabanel's figure of God are clearly meant to evoke the God of Michelangelo's Sistine Chapel ceiling, specifically its Creation of Adam.
Political events during Cabanel's sojourn in Rome led him to encounter an even more direct figural source for this painting. In the aftermath of the 1848 Revolution, students at the French Academy were forced to flee the upheaval in Rome and settle temporarily in Florence. At the Pitti Palace, Cabanel would have seen Raphael's painting The Vision of Ezekiel. The hair, face, and gesture of God in Cabanel's painting reference this Renaissance work directly. Back in France, Cabanel went on to enjoy a highly successful academic career as a favorite of Emperor Napoleon III and other wealthy collectors, who generally preferred his portraits and licentious mythological subjects.