Alexandre Séon (French, 1855–1917)
Seated Nude in Profile
Red chalk on paper, 10 1/4 x 6 in.
Gift of DeCourcy E. McIntosh
2003.44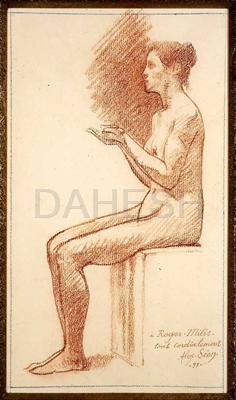 Séon began his career in the Paris studio of Henri Lehmann (1814–1882), but soon became a pupil of Pierre Puvis de Chavannes (1824–1898). He worked with Puvis for ten years, assisting him with important projects such as the murals for the Panthéon. Séon was also friendly with Georges Seurat (1859–1891), who had also been a student of Lehmann, and forged his own Symbolist aesthetic relating color, line, and mood. The firm contours and hieratic profile of the nude in the present drawing reveal the influence of both Lehmann and Puvis.