Alexei Harlamoff (Russian, 1840–1925)
A Young Beauty
Oil on Canvas, 17 3/4 x 14 1/2 in.
Signed lower left : A. Harlamoff.
1997.23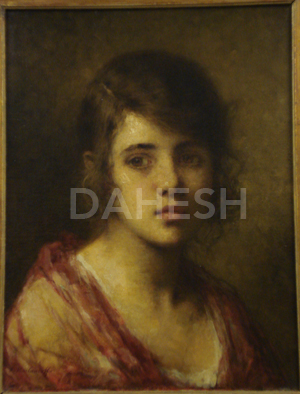 A Young Beauty is an example of the numerous images of beautiful girls and young women that dominate Harlamoff's oeuvre. These images mostly consist of bust- or three-quarter-length views of attractive, solitary young girls, set within an indeterminate space. In A Young Beauty, a curly-haired youth, draped with a pink shawl, sits before an indistinct brown background. Depicted from the chest up, she gazes out of the picture plane, giving the image the appearance of a portrait. However, such images were not created to reflect individual likenesses, but idealized representations of youthful female beauty. Harlamoff often repeated the same likeness over and over, so that his young beauties can largely be categorized by their different phenotypes. Although they dominate his artistic output, these imaginings are not unique to Harlamoff's oeuvre. A Young Beauty is part of a larger late-19th-century trend in which artists increasingly created images of attractive young girls not as portraits, but for the contemplation of feminine beauty alone.