Alfred Dehodencq (French, 1822–1882)
Study for The Arrest of Charlotte Corday, ca. 1853
Graphite with pen and sepia ink on paper, 7 1/2 x 11 3/4 in.
Gift of DeCourcy E. McIntosh
2003.27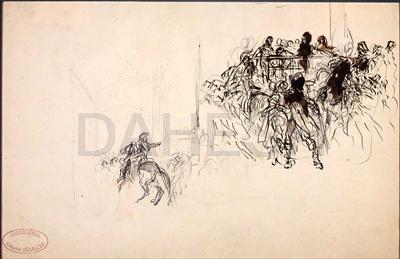 A student of Léon Cogniet, Dehodencq spent the 1850s and early 60s in Spain, where he concentrated his painterly efforts on images of Spanish and Arab life, subjects informed by his love of the Romantic writings of Byron and Chateaubriand. The present drawing represents a preliminary idea for a painting he exhibited much later, at the Salon of 1868 (Paris, Musée d'Orsay), depicting a crowd gathered to see the arrest of the woman accused of murdering the French Revolutionary hero Jean-Paul Marat while he bathed on July 13, 1793.