Alfred-Désiré Lanson (French, 1851–1898)
Jason and the Golden Fleece, modeled 1876, cast ca. 1895
Bronze, rich brown-green patina, 39 3/8 x 19 1/2 x 12 1/2 in.
Signed on base left: Lanson scpt. Inscribed on base right: Susse fres edts Paris. Stamped on base back: COPYRIGHT BY SUSSE FRES 1895 2002.48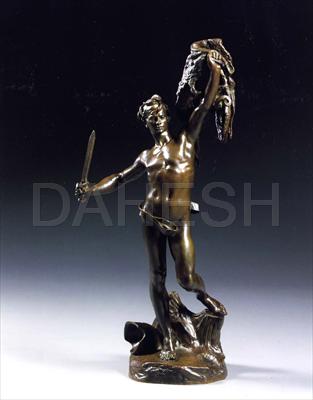 Lanson's 1876 entry for the Salon, the plaster sculpture of Jason and the Golden Fleece on which the present version is based earned him the prestigious Prix de Rome. It depicts the mythological hero Jason triumphantly presenting the Golden Fleece, which he had earned after performing three difficult tasks, with the help of his eventual wife, the sorceress Medea. In its dynamism, Lanson's work differs from the Danish sculptor Bertel Thorvaldsen's famous version of the scene (1803, Thorvaldsen Museum, Copenhagen). The Susse foundry—one of the oldest in Europe, cast Lanson's Jason in three sizes: 100, 75, and 50 cm., of which this example is the largest. The foundry considered the Jason to be one of its most distinguished casts.
.