Alphonse-Étiénne Dinet (French, 1861-1929)
Le Caire, Brumes, Poussières et Fumées du Soir (Cairo: Haze, Dust and Evening Smoke), 1899
Oil on board, 14 1/2 x 29 1/2 inches
Signed lower left: E DINET
2012.3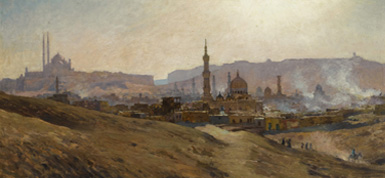 This newly acquired work is one of two panoramic views of Old Cairo, one in the morning and the other in the evening by Étiénne Dinet after his trip to Egypt in 1897. The evening painting, which now enters the Dahesh Museum of Art collection — with its mirage-like view, haze, and rising smoke that dissolves the details of the citadel and numerous minarets across the skyline — recalls the work of Claude Monet. Le Caire is distinctly different from Dinet's well-known Orientalist luminous scenes of daily life, which relate more closely to Naturalism. Like the Impressionists, many Naturalist painters including Dinet were interested in plein-air painting and the effects of light, but executed their work in a more academic manner with attention to detail and a meticulous finish.
A pupil of Tony Robert-Fleury and William Bouguereau, Dinet became a devoted Orientalist after his first voyage to Algeria in 1884. Captivated by the country, he returned many times, learned the Arabic language, converted to Islam, and in 1904 settled in the town of Bou Saâda in the south of Algeria, where he continued to express the essence of life and emotions of its people.