Anna Lea Merritt (American (active in England), 1844–1930)
Eve Overcome by Remorse, 1887
Etching on Japan paper, 13 1/8 x 18 7/8 in.
Gift of Rona Schneider
2005.11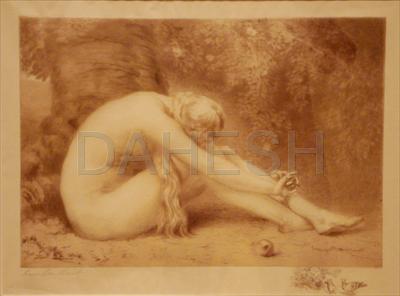 Anna Massey Lea was brought up in Philadelphia but received most of her training in Europe, where she took private classes from male tutors in Florence, Dresden, Paris, and London, as women were barred from the most prestigious academies. She settled in London in 1870 and in 1877 married her teacher, the painting conservator and critic Henry Merritt, who died three months later. She was a prolific portraitist but also tried her hand at history painting, which often required depictions of the nude figure. In 1885, Merritt exhibited at London's Royal Academy a painting entitled Eve Overcome by Remorse (location unknown), which was the model for this etching, the "diploma plate" she donated to the London Society of Etchers upon her election to its membership.