Anselm Feuerbach (German, 1829–1880)
Study of a Woman's Head, 1871
Oil on canvas, 21 1/4 x 17 1/3 in.
Signed and dated lower right: AF 71
Gift of Mr. Eberhard Geffers
2005.13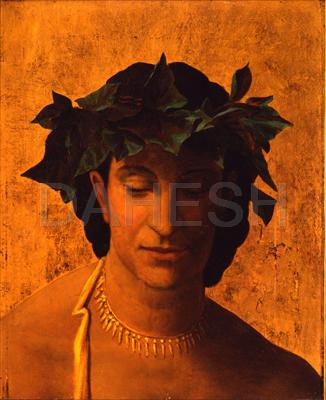 Feuerbach was a major painter who trained at the academies of Düsseldorf, Munich, and Antwerp, then studied with Thomas Couture (1815–1879) in Paris. He finally settled in Rome, where he eventually began working on his first version of Plato's Symposium (1869, Staatliche Kunsthalle Karlsruhe). Plato's text from ca. 384 BC, to which this painting refers, describes a banquet in which various guests deliver each a different speech in honor of love.
Feuerbach's monumental canvas was criticized for its subdued tonality, so he made a second version to which the present study relates (see photograph). Set against a gold background, it shows a female head adorned with a wreath and necklace. The model Lucia Brunacci posed for the figure that, in the final composition, stands in the far left and supports the politician Alcibiades, a friend of Socrates. The head in the final painting is not set against a gold background, underlining the experimental quality of this study.
Anselm Feuerbach, Plato's Symposium, second version, 1873, oil on canvas, 157 x 295 inches (400 x 750 cm), Berlin, Alte Nationalgalerie