Antoine-Charles-Horace (called Carle) Vernet (French, 1758–1836)
The Scouting Mamluk
Colored lithograph, 15 1/4 x 22 1/4 in.
DM1519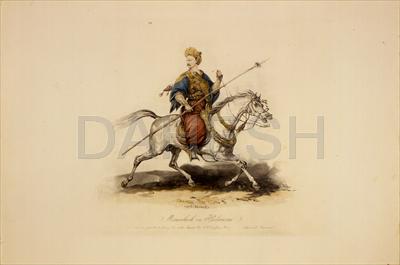 Son of the landscape and marine painter Joseph Vernet (1714–1789), Carle Vernet became an exceptional painter and lithographer of horses and battle scenes. At age 11 he entered the atelier of Nicolas Bernard Lépicié (1735–1784) and won the Prix de Rome in 1782. Among other military events, he recorded Napoleon's Italian campaign, which resulted in paintings such as The Battle of Marengo (ca. 1804, Versailles). An avid equestrian, Carle Vernet was also a friend and hunting partner of the Duke of Orléans. Carle's son Horace (1789–1863) continued the family's artistic tradition and was also a favorite painter of the Duke after he became King Louis-Philippe (reigned 1830–1848).
The word Mamluk (or Mameluke) derives from the Arabic mamluk, meaning a slave, and specifically refers to Turkish slave soldiers. Around 1240, they formed the royal bodyguard to the Egyptian sultan and helped defend his territory against the crusaders. But a decade later the Mamluks seized power themselves and formed the Egyptian ruling class for centuries. Since children of mamluks were prevented from becoming soldiers, the ranks of these military households always had to be replenished with new Turkish slaves. Mamluks were fierce equestrian soldiers, but did not adapt to new warfare based on guns. The Mamluks finally lost their power in 1811 to Muhammad Ali (1769–1849), who thus became the undisputed ruler of Egypt. Earlier, Napoleon fought the Mamluks in his 1798 Egyptian campaign, after which the Mamluks became, for western artists, iconic symbols of the fierce exotic warrior.