Antoine-Louis Barye (French, 1796–1875)
War and Peace
Bronze, dark brown and redish patina, 19 1/2 x 13 1/2 x 20 in.
War inscribed on base side right: BARYE. Peace inscribed on base side left: BARYE.
2013.6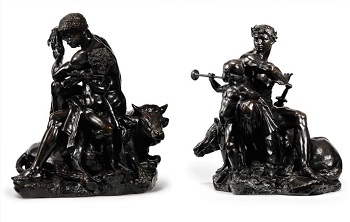 Although Barye is most known for revolutionizing the genre of animal sculpture, he also received a thorough training in the classical tradition and often represented allegorical and antique subjects. Barye's War and Peace as well as another pendant (Force and Order) were commissioned by the French state in 1854–55 to decorate the Cour du Carrousel (originally called Place Napoléon III) at the newly renovated Louvre. Barye received 5,000 francs for each pair of objects, which are intended to represent the responsibilities of State and citizen. Barye took the traditional image of Hercules Resting as the starting point for these sculptures. In War, the figure is seated on a recumbent horse, which may represent victory or strength, but his upper body is tense and on the verge of action as the accompanying putto blows his heralding horn. In Peace, on the other hand, the main figure is resting against an ox, a symbol of peace, listening to a putto playing the flute.