Antoni Piotrowski (Polish, 1853–1924)
Nymphs and Satyrs, 1909
Oil on canvas, 51 1/2 x 71 in.
Signed lower left: ANTONI PIOTROWSKI 1909
DM8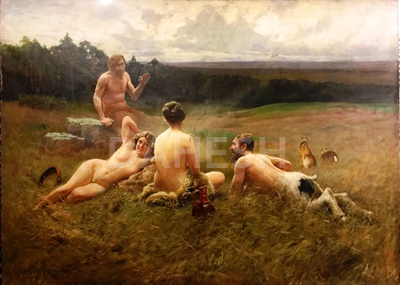 Nymphs and Satyrs is a variation of Piotrowski's earlier work with the same title, which won him an honorable mention at the Berlin International Art Exhibition in 1891 (No. 3863, location unknown).  The arrangement of the figures is almost identical in both works––a group of mythological beings lounging outdoors––but the setting is different.  In the original, the group is shown in desolate woods at night, while in the present work they are located in a field at midday. A biographer of Piotrowski, writing in 1914, argued that the original work was a proclamation of "the Victory of Christendom over idolatry and mythology, and the flight of the old pagan gods into a forest funeral." Here, however, the pastoral sprites relaxing are in the open, suggesting a Classical, idyllic time.