Arthur Wardle (British, 1864–1949)
Tigers at Kill
Oil on canvas, 26 x 38 1/4 in.
Signed lower left: ARTHUR WARDLE
DM 1869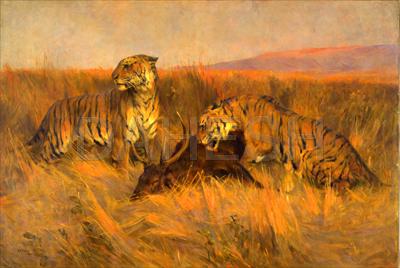 Although Wardle received no systematic or academic training as an artist, he was regarded as one of England's most highly accomplished animal painters of his time. While he depicted a broad range of animals in the British sporting tradition, such as dogs and horses, Wardle also particularly favored the more exotic feline subjects. Both pictures in the Dahesh Museum's collection show tigers killing their prey. In this painting, Wardle shows two tigers enjoying the spoils of their hunt, a picturesque depiction of savagery comparable to the sculptures by Antoine Louis Barye.