Auguste-Hyacinthe Debay (French, 1804–1865)
The First Cradle: Eve and Her Two Children, ca. 1845
Marble, 43 x 18 x 22 in.
1995.108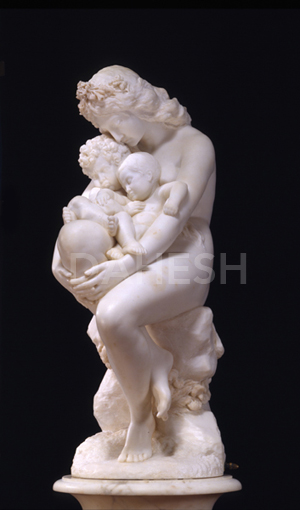 Debay was an accomplished painter and sculptor who won the prestigious Prix de Rome for painting in 1823. Although his sculptural oeuvre was small—comprising only about twenty works, including commissions for the fountain in the Place de la Concorde and the facade of the École des Beaux-Arts—it included one of the most widely recognized sculptures of the mid-19th century, The First Cradle. After its debut at the Salon of 1845, the original sculpture (present whereabouts unknown) was exhibited to great acclaim in London at the Great Exhibition of 1851 and again in Paris at the 1855 Exposition Universelle, where it was awarded a first-class medal.
The depiction of the infants Cain and Abel nestled snugly in their mother's arms offered an opportunity to meditate on the poignant contrast between this idyllic moment and the betrayal, violence, and death that lay in the brothers' future. To emphasize the contradiction, Debay included bas-reliefs on the base of the original Salon marble that portrayed the unhappy future events. These reliefs can be seen in an illustration from The Illustrated London News of October 11, 1851, which shows the sculpture on view at the Great Exhibition of that year. The present work, which lacks these bas-reliefs, is one of at least two known marble copies of the original. This popular subject was also produced for sale in bronze, plaster, and terracotta casts.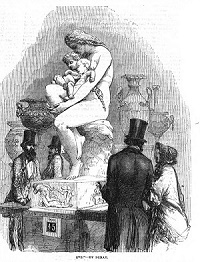 Eve.— by Debay, from The Illustrated London News, October 11, 1851.