Carl Libert August Lentz (German, 1827–1898)
The Harem Beauties, 1896
Oil on panel, 10 3/4 x 8 in.
Signed lower right: A. Lentz 96
1995.59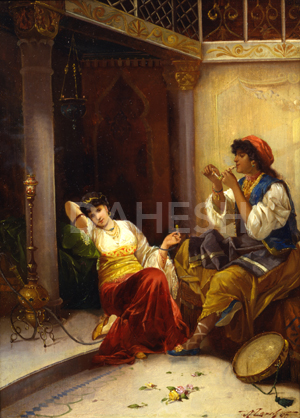 Created toward the end of Lentz's life, The Harem Beauties was likely painted during the artist's final trip to Tunisia and Algeria and represents two women lavishly clothed in vibrant, flowing garments languorously seated in the inner courtyard of a building. The title of the work identifies these as women of the harem, the isolated space in an Islamic household where female family members were sequestered from the sight of strangers. The theme of women in their quarters is one of the most popular in Orientalist painting. Westerners–especially men–were not permitted to enter the harem creating an air of mystery around these spaces. Western harem scenes are typically fantasies, portraying beautiful women languidly passing time until called upon to meet the needs of the male head of household. In The Harem Beauties, Lentz depicts the two women smoking: the woman on the right lighting a pipe, while the woman to the left reclines on her green cushions between puffs from an elaborate hookah—her right arm crooked behind her in a time-honored artistic posture associated with female availability.