Carl Friedrich Werner (German, 1808–1894)
Beauty with a Tambourine, 1867
Watercolor and gouache, 19 1/2 x 24 1/2 in.
Signed & dated center left: C. Werner f. 1867
2012.15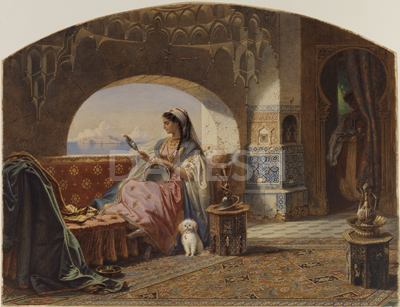 Werner spent much of his career traveling extensively through England, Italy, Spain, Egypt, and Palestine. In the 1860s, he was given permission to paint inside Jerusalem's venerable Dome of the Rock, an honor granted to few non-Muslims. He exhibited frequently in London, especially at the New Water-Colour Society, and in 1875 he published Carl Werner's Nile Sketches after watercolors made onsite in Egypt. Although best known for detailed and light-suffused architectural and landscape views, Werner also produced some interiors, such as Beauty with a Tambourine, where he integrates the lounging woman into the overall decorative effect. In this scene, Werner draws upon the Orientalist trope of depicting beautiful, languid women sequestered in their harem, away from the eyes of male strangers.