Charles Amable Lenoir (French, 1861–1961)
Day Dreams
Oil on canvas, 22 x 18 1/2 in.
Signed lower left: C.A. Lenoir
2012.9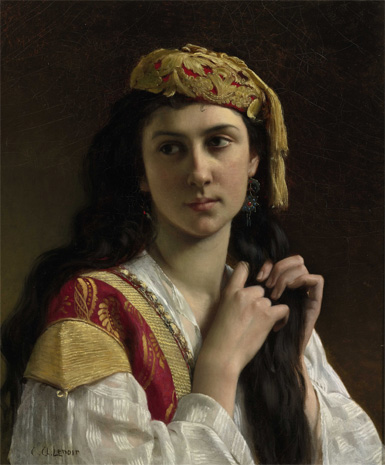 A favored student of William Bouguereau, Charles Amable Lenoir followed the example of his master by painting numerous pictures of beautiful young women. These images, which flourished from the middle of the 19th century, could be either portraits or representations of ideal types, shown in urban or rustic settings. Recently acquired, Day Dreams is one of several paintings by Lenoir of young women in oriental costume, although it is not known if he actually traveled to the Middle East. A regular exhibitor at the Paris Salon from 1887 until 1926, Lenoir won medals in 1892, 1896, and 1890, and was made Knight of the Legion of Honor in 1903.