Charles Edward Perugini (British, 1839–1918)
The Green Lizard
Pencil and oil on artist's board, 6 5/16 x 9 7/8 in.
1997.8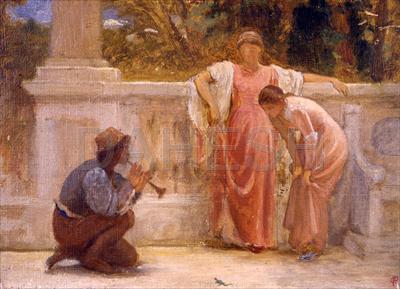 Born in Naples, Perugini first trained in Italy before working in Paris under Ary Scheffer (1795–1858). He ultimately moved to London in 1863, where he is said to have worked as an assistant to Frederic Leighton (1830–1896). Perugini exhibited regularly at London's Royal Academy; among the works he showed there was a 1902 painting called The Green Lizard (location unknown), for which the present work is a preparatory sketch.