Charles-Henri-Joseph Cordier (French, 1827–1905)
A Sudanese in Algerian Costume, ca. 1857
Silvered bronze, 16 3/4 x 12 1/4 x 6 1/4 in.
Signed on left sleeve: Cordier
1997.38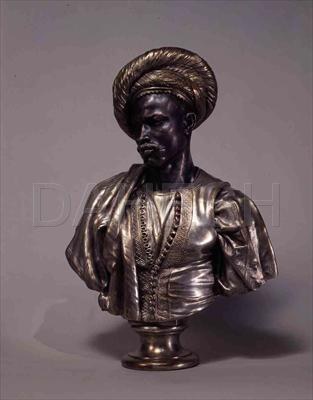 Cordier was related by marriage to the director of the Museum of Natural History in Paris and served from 1851 to 1866 as its official ethnographic sculptor, creating a series of busts for the museum's new ethnographic gallery. In 1856 he was awarded a commission from the French government to visit Algeria with the purpose of studying and reproducing in sculpture "the different indigenous types of the human race." Upon his return he exhibited ten busts at the Paris Salon of 1857, one of which was a silvered bronze and onyx version of A Sudanese in Algerian Costume purchased by Emperor Napoléon III (Musée d'Orsay, Paris). The figure's carefully rendered drapery and noble features, described by one writer as having "the air of a Roman emperor," made this North African subject one of Cordier's most successful. The present sculpture, in silvered bronze, is a reduced version of this important work.