Charles Mercier Dupaty (French, 1771–1825)
Comte de Vaublanc, ca. 1820
Plaster, 30 x 21 x 13 in.
Gift of Charles Janoray
2001.19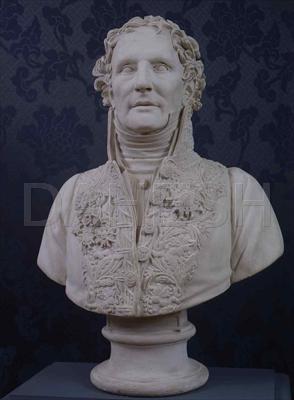 Vincent Marie Viennot, Comte de Vaublanc was an ultra-royalist and interior minister under King Louis XVIII. Born in 1756 in Saint-Domingue, he attended the École Militaire in Paris and later entered the army as a second-lieutenant. In 1790 he was made president of the departmental administration of Seine-et-Oise, but during the Terror was forced into hiding. Only after Napoleon overthrew the Directoire in 1799 did Vaublanc return to France. Thereafter he found success in politics, and was made a Baron in 1809, Minister of the Interior in 1815, and served as Vice President of the House from 1821 to 1824. Dupaty's sculpture shows Vaublanc towards the end of his political career. The commanding presence of his sternly expressive face is greatly enhanced by the ornate jacket, heavily embroidered with a floral pattern and decorated with the many orders bestowed upon the nobleman. The use of a classicizing style ennobles the sitter and also reveals Dupaty's close observation of antiquities during his time in Italy. This aesthetic smooths over Vaublanc's age with the marble's soft surface, while evoking a sense of refinement and political prowess associated with the ancient cultures of Greece and Rome.