Charles-Théodore Frère (French, 1814–1885)
Philae Temple, Nile River, Egypt
Oil on panel, 7 1/2 x 11 7/8 in.
Signed lower left: TH. FRÈRE
2012.6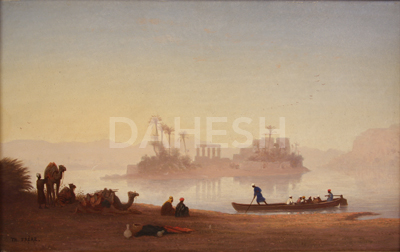 Frère depicts the island of Philae in Egypt, a popular Orientalist subject that is also represented in the Dahesh Museum of Art's collection by Hermann-Salomon Corrodi (Campfire by the River: Kiosk of Trajan at Philae) and Frederick Bridgman (Cleopatra on the Terraces of Philae, 1896). For this work, Frère has chosen a distant view of the island, notably featuring the temple of Isis, and to its left the Kiosk of Trajan ("Pharaoh's Bed"), which was particularly appealing to Orientalists. The construction of the Aswan High Dam (1960–1970) submerged the island, and during the 1970's, the temple ensemble was moved to the nearby island of Agilkia, near Aswan, a tourist destination to this day.