Charles-Théodore Frère (French, 1814–1888)
The Banks of the Nile, Cairo
Oil on panel, 5 1/2 x 10 7/8 in.
DM295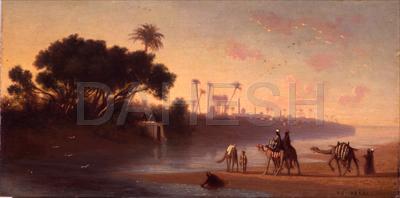 Frère exclusively painted scenes of the Middle East after a trip to Algeria in 1837. He made a longer voyage to the region in 1851, visiting Turkey, Syria, Palestine, and Egypt. On his final trip in 1869, he accompanied the French Empress Eugénie's entourage to Egypt for the opening of the Suez Canal. Frère established a studio in Cairo and was eventually awarded the title of Bey (Lord) by the Egyptian government. Claude Monet (1840–1926) and Eugène Boudin (1824–1898) were among those who admired Frère for his warm, shimmering light. Like the Impressionists, he painted outdoors for greater visual accuracy, sometimes exaggerating colors for dramatic effect.