Claude-Louis Desrais (French, 1746–1816)
A Royalist Allegory, ca. 1814
Pen and brown ink with brown and gray washes and white gouache over black chalk, 15 3/4 x 22 1/16 in.
Inscribed: paradis des Saints/des justes. Et des bienheureux pour l'eternité/henry .IV., louis .XIV., St. charlemagne empereur., St. louis/pascal-,j.b. bossuet/ Ev. de meaux., lam? .s. fénélon archev./de/cambray, huet Evêque d'avranches, d. duperron, Sauteuil, p. quenel/purgatoire des ames/Enfer/dernier asile des damnés.
2002.19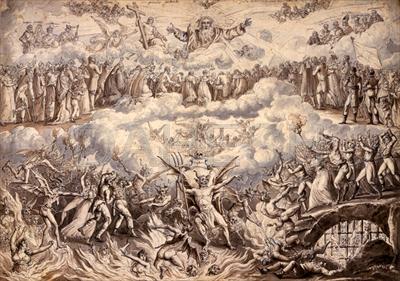 While Desrais is primarily known as a prolific book illustrator in late 18th-century France, he also produced historical compositions that chronicled his time. During the French Revolution, he portrayed high-profile murder scenes such as the Assassination of Deputy Louis-Michel Le Peletier de Saint-Fargeau, 20th January 1793 (Musée Carnavalet, Paris), as well as pro-revolutionary allegories, The Triumph of Bonaparte, Allegory of the Concordat and of the Peace of Amiens (also Musée Carnavalet). With A Royalist Allegory, Desrais captures the mood of France in 1814, when the Catholic Bourbons returned to the throne, and religious imagery, long out of favor, returned in full force. Adopting the compositional structure of a traditional Last Judgment, Desrais depicts those who remained faithful to the King ascending to Heaven, while the Bonapartists are included with the other enemies of the Church descending into Hell. It is not known if this image was finally published.
Desrais entered the Académie Royale de Peinture et Sculpture in 1764, where he studied with Francesco Casanova, and became the protégé of Charles Nicholas-Cochin. He participated in the annual outdoor Exhibitions of Youth from 1768 to 1772, and established his name in fashion and book illustrations. Desrais also executed portraits of prominent men, as well as military, religious, and historical compositions.