Constant Troyon (French, 1810–1865)
Flock of Sheep Approaching, or The Return of the Flock
Oil on canvas, 29 x 36 in.
Stamped lower left: Vente Troyon
1996.22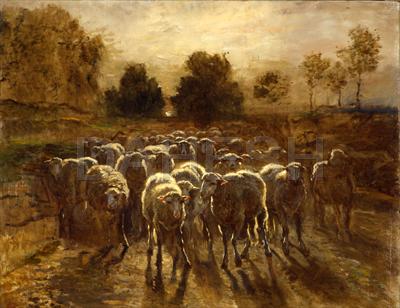 Troyon was a member of the Barbizon school of painters, whose naturalistic depictions of the rural landscape and its inhabitants prefigured Impressionism. Largely self-taught, Troyon had met fellow Barbizon artists by the early 1840s, but the key event in his career was an 1847 trip to the Netherlands, where he was captivated by the work of the 17th-century Dutch animal painter Paulus Potter (1625–1654). By 1849 he had begun specializing in animal paintings executed in a rapid and broadly brushed style. The enormous popularity of these works continued long after his death and his art continued to command high prices throughout the first decades of the 20th century. The summary handling of the foreground sheep and ghostly image of a shepherd in the background suggest that this painting may be unfinished.