After David Roberts, R. A. (British, 1796–1864)
Lithograph by Louis Haghe
Jerusalem from the Mount of Olives, 1839
Color lithograph, 17 x 24 in.
Inscribed lower left: Jerusalem, April 5th, 1839; lower center: London R. b 1 by F. G. Moon, 20 Threadneedle St., June 1st, 1841
1995.72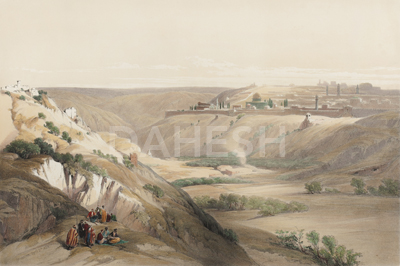 Roberts' famous publication The Holy Land, Syria, Idumea, Egypt, & Nubia (1842–49) included approximately 250 lithographs after his drawings, which he made "on the spot" during his extensive tour of the Middle East. In Jerusalem from the Mount of Olives, Roberts utilizes a number of conventions that derive from his background as a scene painter and from historical landscape painting devices. The city of Jerusalem is presented from a distance amidst a sprawling landscape, and a group of figures in the foreground provide a sense of scale and local color. The Mount of Olives is mentioned several times in the New Testament, and the Garden of Gethsemane, where Jesus was arrested, is pictured at the foot of the slopes of Jerusalem. The commentary that accompanies this view in The Holy Land notes that "no portion of Palestine was more hallowed by the frequency of our Lord's presence, and the events of his closing life." Louis Haghe (1806–1885), who was responsible for transforming Roberts' sketches and watercolors into lithographs for the publication, was himself a highly reputed artist and an innovator in the field of color lithography. The quality of Haghe's work, as seen in Jerusalem from the Mount of Olives, helped ensure the popularity and longevity of The Holy Land.