David Roberts, R.A. (Scottish, 1796–1864)
Sketch for The Houses of Parliament, ca. 1860
Oil on canvas, 11 x 24 in.
1997.65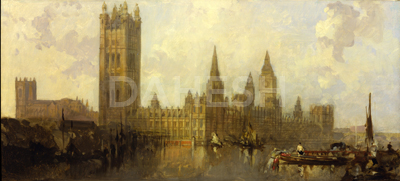 In the 1860s, Roberts embarked on a new artistic project, exchanging views of the Middle East for those of the River Thames—a subject reportedly suggested by J. M. W. Turner. He completed three oil paintings showing the Houses of Parliament (also known as the Palace of Westminster) in 1861. The Houses of Parliament in the Dahesh Collection is likely a preparatory study for one of those images, either The New Palaces of Westminster from the River Thames (City Club, London) or The New Palace of Westminster from the River (The Worshipful Company of Goldsmiths, London), which depict almost identical views of Charles Barry and Augustus Pugin's Neo-Gothic buildings (constructed 1840–70). Roberts' London scenes received mixed reviews when exhibited at the Royal Academy in 1862. The Art-Journal stated positively that they "are beyond anything that this painter has for a long time exhibited," but The Athenaeum felt that a photograph would better serve the views: "We see no particular interest in Mr. David Roberts's many views of London from the Thames, because they are much less faithful than photographs, and give even less colour." Roberts hoped to capture the feel of the Thames before it was purified—of both its pollution and culture—with the building of the Victorian Embankment (1865–70), which would "totally alter its present appearance." He wanted to record the London of his day, so that "should my [Roberts'] pictures survive to the period when the New Zealander is to stand on the ruins of London Bridge, and survey the very little left of London, he may still find in some national gallery, far away maybe in Timbuctoo, a representation of what London once was." And just as Roberts intended, his painting reflects the active commercial life of the river and the view of the Houses of Parliament from the Old Horse-ferry, replaced by Lambeth Bridge in 1862.