Edward Angelo Goodall (British, 1819–1908)
The Interior of Sultan Hassan Mosque, Cairo
Watercolor, 24 x 35 in.
Signed lower right: E. A. Goodall
2012.13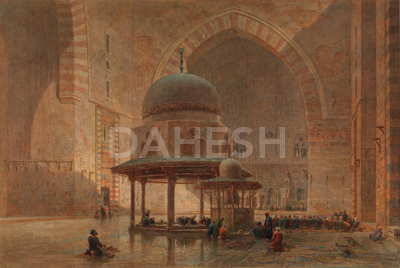 Like his better known brother, the Royal Academician and Orientalist painter Frederick Goodall, whose Egyptian Pilgrims Arriving at an Inn is in the Museum's collection, Edward Angelo Goodall traveled widely throughout his career, visiting Gibraltar, Egypt, Morocco, and Italy. This watercolor shows the courtyard of the massive Sultan Hassan Mosque (built in AD 1362), which is part of a splendid complex at the western edge of the citadel in Cairo. At the center of the courtyard is an ablutions fountain, behind which we see two of the four arched iwans (vaulted space with a large opening arch), which house madrasas (schools) for the four Sunni schools.