Edward Lear (British, 1812–1888)
An Arab Encampment at Wady Feiran, 1869
Watercolor over pencil heightened with gouache and gum arabic on paper, 7 x 14 3/4 in.
Signed with monogram and dated lower right: EL 1869. Inscribed lower left: Wady Feiran
2012.4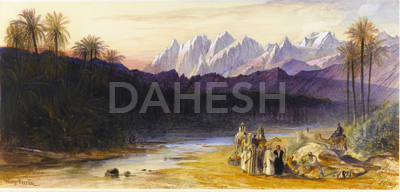 Edward Lear's splendid watercolor, An Arab Encampment at Wady Feiran, depicts an oasis in Sinai, Egypt, that the artist described as the most wonderful and beautiful place he ever saw. Wady Feiran is Sinai's largest oasis. Called the "Pearl of Sinai" for its spectacular views, it is surrounded by palm trees and mountains, with a running stream in the center, which Lear depicts running through the center of his scene. In addition to its scenic beauty, Wady Feiran is also renowned for its biblical history. Supposedly, it was there that Moses struck a rock with his staff and created a spring to provide water for his people. Lear often selected landscapes that held historical significance. These associations, however, are typically secondary to his depiction of the terrain as well as the color and light present at a particular moment.