Edward Lear (British, 1812–1888)
An Arab Encampment at Wady Feiran, 1869
Watercolor over pencil heightened with bodycolor and gum arabic on paper, 7 x 14 1/2 in.
Signed with monogram and dated lower right: EL 1869. Inscribed lower left: Wady Feiran
2012.4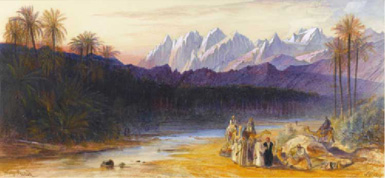 Best remembered today as the author of nonsense verse and limericks, Lear was a prolific landscape painter, illustrator, and an avid traveler. He visited Egypt three times between 1849 and 1866, Palestine and Lebanon in 1858, and India and Ceylon in 1873, producing numerous topographical views, which he finished with pen and wash upon his return in his studio.
Edward Lear's splendid watercolor depicts an oasis in Sinai, Egypt, that the artist described as the most wonderful and beautiful place he ever saw. Wady Feiran, Sinai's largest oasis, called the "Pearl of Sinai" for its spectacular views — surrounded by palm trees and mountains, with a running stream in the center is also renowned for its biblical history. Supposedly, it was there that Moses struck a rock with his staff and created a spring to provide water for his people.