Edwin Longsden Long, R.A. (British, 1829–1891)
Love's Labour Lost, 1885
Oil on canvas, 50 x 75 1/4 in.
Signed and dated center right: E. Long 1885
1995.10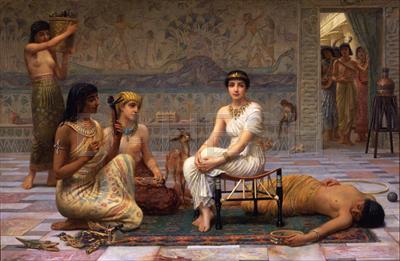 Edwin Long made a specialty of elaborate genre pictures of ancient Egypt. The carefully detailed furnishings in this painting suggest a familiarity with ancient Egyptian artifacts, and Long did, in fact, travel to Egypt in 1874. Yet, like many Orientalist painters, Long rarely drew from memory, choosing instead to rely upon descriptions in books, photographs, or objects in the collection of, for example, the British Museum. The wall mural, wooden toys, vase stand, and stool seen here were illustrated inManners and Customs of the Ancient Egyptians (1837), a well-known book by British Egyptologist John Gardner Wilkinson.
This painting was exhibited at the Royal Academy with a verse written by Long's eldest son Maurice St. Clair:
When like an opening bud the flower of Youth Unfolds its petals to the light of Truth, Then mimic toys and tales of wondrous lore, By puppets acted, charm not as before. Amusement wearies out her skill in vain, And calls the aid of music's magic strain; But happy childhood's limit passed for e'er Youth rashly craves reality and care.
The central figure, presumably a noble Egyptian girl, has become and adult and is no longer interested in the childish entertainment of her servants. The musicians that have been called for, are entering the room.