Rudolf Ernst, Austrian, 1854–1932
The Letter, 1888
Oil on panel, 25 3/4 x 21 in.
Signed and dated lower left: R. Ernst 88
1995.53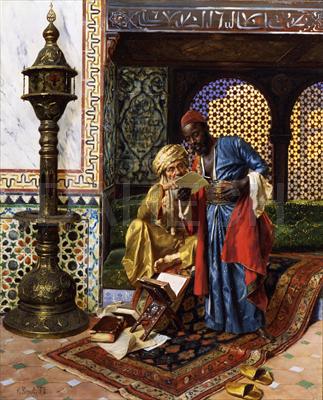 Like many of Ernst's works, The Letter depicts an interior scene that showcases the artist's skill at rendering a variety of exotic textures, surfaces, and color. The composition is filled with decorative details ranging from the colorful costumes of the figures, Islamic tile patterns, and rug to the delicate woodwork of the book stand with its mother-of-pearl inlays, and mashrabiya screen – a decorative technique where small pieces of wood are turned in different forms to create a multitude of lattice-like patterns. Despite the ethnographic details, Ernst often blended architecture, objects, and costumes from diverse cultures — at times even compromising accuracy. For instance, in this painting, the Arabic script on the wooden beam over the two figures not only incorrectly copies the common phrase "There is no victor but God," but is also painted in reverse. Many of the motifs in this work, including the bronze lamp, and tile patterns can be found in other works by the artist, and were drawn from Ernst's large private collection of Oriental artifacts.
Rudolf Ernst is today among the most popular Orientalist painters of the 19th-century. After training at the Vienna Academy, Ernst traveled through Italy, and in 1876 settled in Paris, eventually taking French nationality. In the mid- 1880s, Ernst traveled to Spain, Morocco and Tunisia, and, in the 1890s, to Turkey and Egypt. After an early career as a portraitist and genre painter, Ernst became a devoted Orientalist, and many of his works show the influence of Jean-Léon Gérôme and his close friend Ludwig Deutsch.