Auguste Bonheur (French, 1824–1884)
Cattle by a Lake
Oil on canvas, 39 3/4 x 55 1/4 in.
Signed lower left: Auguste Bonheur
DM10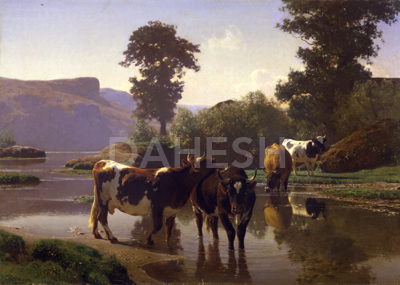 In 1848 Auguste Bonheur entered the École des Beaux-Arts as a pupil of Paul Delaroche (1797–1856). At first he specialized in portrait and genre painting, but in 1852 animals became the predominant theme in his work. He exhibited regularly at the Paris and Bordeaux Salons, won a number of medals, and in 1867 was named Chevalier of the Legion of Honor by the French government. He also enjoyed extensive patronage in England, where he showed at the Royal Academy and in London exhibitions organized by Ernest Gambart, his sister Rosa Bonheur's art dealer. Critics praised not only the anatomical precision of his animals but also his remarkable landscapes, like this wonderfully tranquil and bucolic scene.