Elizabeth Jane Gardner Bouguereau (American, 1837–1922)
Before the Engagement
Oil on canvas, 45 x 31 1/4 in.
Signed lower left: Elizabeth Gardner
2012.7
After the Engagement
Oil on canvas, 45 x 31 1/8 in.
Signed lower left: Elizabeth Gardner
2012.8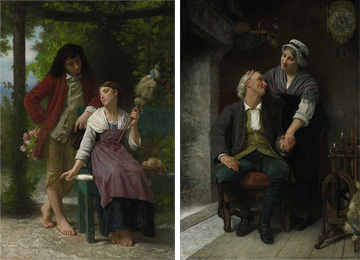 Often overshadowed by her renowned husband William-Adolphe Bouguereau, Elizabeth Jane Gardner Bouguereau was talented and successful in her own right, as is evident in this pair of paintings. Commissioned by American business man Obed J. Wilson, the paintings are based on a poem by the Scottish writer Robert Burns.
Before the Engagement
depicts two modest youths at the age of betrothal in an idyllic, outdoor setting. In its pendant,
After the Engagement
, years have passed, and the humble, dim interior is nevertheless radiant with their mature tenderness and affection.
Gardner moved to Paris from New Hampshire in 1864, studying with Hugues Merles, Jules-Joseph Lefebvre, and Bouguereau. She exhibited at the official Salon from 1868 until 1914, and was the first and only American woman painter to win a medal. Gardner first mentioned the Engagement commission in December 1880 in a letter to her brother. The topic was timely —Bouguereau and Gardner had become engaged the year earlier. Writing to her sister in 1882, Gardner noted of the paintings, "They are the best I have done, only unfortunately I have bestowed two months longer on the work than I intended. Everybody likes them…" The paintings remained together as part of the Wilson collection at the Twin Towers Senior Living Facility in Cincinnati before being purchased by the Dahesh Museum of Art.