Émile Friant (French, 1863–1932)
Self Portrait with Palette and Brushes
Pen and black ink on wove paper, 6 1/4 x 4 1/4 in.
Signed and inscribed at bottom: A notre ami et admirateur enthousiate Edmond Neille/le portrait de auteur/ami –prix de Rome /E. Friant
Gift of DeCourcy E. McIntosh
2003.31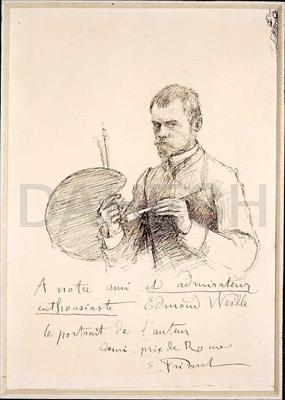 When Friant made his debut at the annual Salon in Nancy in 1878, the fifteen-year-old student's gift was immediately apparent, and he was soon awarded a municipal scholarship for study in Paris. He entered the studio of the famous Alexandre Cabanel (1823–1889), but grew disenchanted with his teacher's severe academic style and returned to Nancy. Friant's inclination toward naturalism was encouraged by his friendship with other Lorraine artists such as Jules Bastien-Lepage (1848–1884) and Aimé Morot (1850–1913). Friant exhibited extensively and enjoyed a very successful career.