Émile Friant (French, 1863–1932)
Study for La Douleur, ca. 1898–1899
Charcoal on wove paper, 18 1/2 x 16 in.
Signed lower right: E Friant
Gift of DeCourcy E. McIntosh
2002.61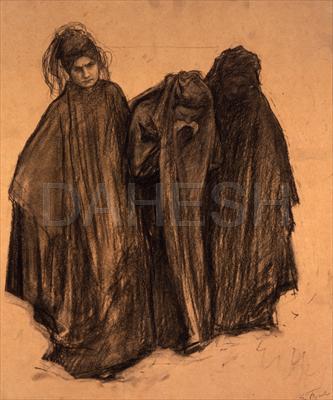 Like his friend and peer Adolphe-Jean Dagnan-Bouveret (1852–1929), Friant was devoted to the academic realist tradition in painting, using techniques honed at the École des Beaux-Arts under the tutelage of Alexandre Cabanel (1823–1889) to create carefully observed genre scenes often drawn from rural life in his home region near Nancy. Also like Dagnan-Bouveret, Friant used photographs as well as drawings to aid in the preparation of finished paintings. The particular faces and precise poses of the three mourning women in this expressive charcoal sketch, for a painting now in the Musée des Beaux-Arts in Nancy, suggest the use of photography, as well as Friant's eye for psychological nuance.