Émile-Jean-Horace Vernet (French, 1789–1863)
A Man in Oriental Costume, 1818
Oil on canvas, 12 13/16 x 9 5/8 in.
Inscribed and dated lower right: H. V. à son ami Ledieu / 1818
2001.1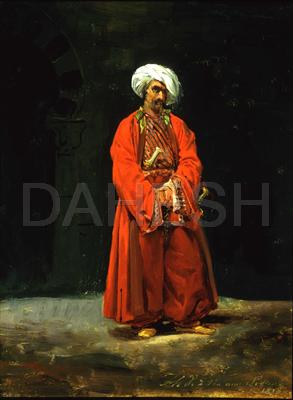 Long before Horace Vernet actually visited Algeria in 1833, he had already encountered people from North Africa and the Middle East in Paris, including acquaintances of his close friend Théodore Géricault (1791–1824). Gericault's servant and model, Mustapha, may have served as a model for this portrait, which is dedicated to one of Vernet's pupils, Charles Ledieu (1784–1878).