Émile-Jean-Horace Vernet (French, 1789–1863)
Sketch for The Lion Hunt, ca. 1836
Oil on paper, laid on canvas, 11 1/4 x 13 3/4 in.
Gift of Amira Zahid
2005.15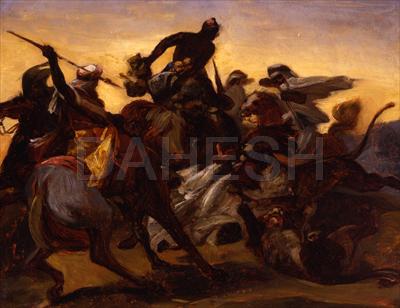 Born into a family of painters – Joseph and Carle Vernet were his grandfather and father – Horace quickly developed his own talent, which he applied primarily to depict French military achievements of his time. From 1828 to 1834, he was director of the French Academy in Rome, where he painted Italian genre scenes. In 1833, he made the first of his several visits to Algeria, resulting in Orientalist pictures as well as Biblical scenes set in the Middle East. Vernet found great favor with King Louis-Philippe (reigned 1830–1848), who as the Duke of Orléans had bought his work early on, and subsequently commissioned a series of large battle scenes for the Palace of Versailles.
At the Paris Salon of 1836, Vernet exhibitedThe Lion Hunt (London, Wallace Collection) under the French title Chasse dans le désert de Sahara, 28 Mai 1833, implying that he had actually witnessed this hunting scene during his first trip to Algeria. The present sketch for that large and highly finished composition also shows the ferocious battle between man and wild animal. This subject had fascinated artists for centuries, and the exotic setting made such works even more appealing to a Western audience.